Oil Refiners Find a Little Bright Spot in Europe Too Hot to Heat
by
Glut of gasoil used for heating hits record amid mild weather

Temperatures seen boosting motorists' consumption of gasoline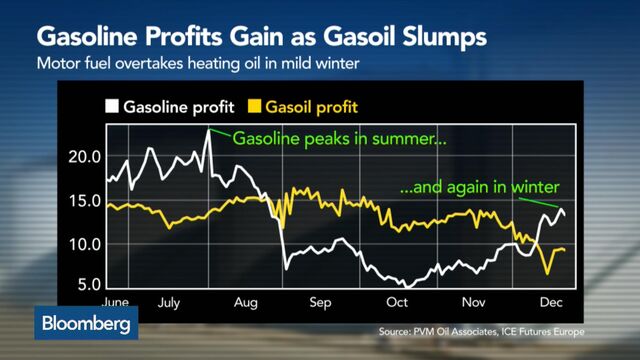 Europe's balmy weather is presenting oil refineries with such an awful market for heating fuel that tankers bringing supplies from the U.S. are doing mid-Atlantic U-turns because their cargoes aren't wanted. The same mild winter is, in part, helping to bring one little bright spot: gasoline.
The oil industry uses what it calls crack spreads, or the difference relative to crude oil, to calculate what fuels are worth. In every single December since at least 2006, heating oil, or gasoil as it's also known, has been the stronger of the two fuels, according to data compiled by Bloomberg from ICE Futures Europe and PVM Oil Associates. This year, that historic relationship has broken, as this graphic shows:

While the mild weather is causing havoc to consumption of fuels related to heating, it's also giving an unseasonal boost to gasoline by increasing leisure time driving demand both within Europe and in the U.S., according to Facts Global Energy.
"Fundamentally, gasoline demand has just been stimulated by the low crude price and people are just driving a bit more, and the mild weather is helping," said Steve Sawyer, downstream consultant at Facts Global Energy. "People in their leisure time are able to drive a bit more now on both sides of the Atlantic and that's just driving the price up."
France registered the highest monthly increase in gasoline sales in 11 months in November when they grew 6.1 percent, according to official statistics compiled by consultants Petromatrix GmbH in Zug, Switzerland. Italian gasoline sales rose by 2.4 percent last month, while in the U.K. they grew by 4.1 percent in October, according to the Petromatrix data.
U.S. consumption of gasoline in the four weeks ending Dec. 11 averaged 9.21 million barrels per day, the highest for the time of year since 2007, according to weekly data from the Energy Information Administration.
Gasoil's crack averaged $9.50 a barrel above Brent crude this month, the weakest for a December since 2010, ICE Futures Europe data compiled by Bloomberg show. It was at $9.60 a barrel at 3:33 p.m. London time. Gasoline's crack averaged about $11.23 a barrel so far in December, and is heading for the best final month of a year since 2007.
Gasoil's premium to Brent crude slumped to $6.54 a barrel on Dec. 14, its lowest since February 2010, as the lack of cold weather in Europe leaves stockpiles of the fuel at record highs. High gasoline demand has helped push naphtha profits to eight-year highs of $5.56 a barrel because it can be used in gasoline production. Naphtha is also gaining on higher Asian petrochemical demand.

The number of days in Europe on which it was cold enough to require home heating has been 21 percent below average from Sept. 1 to Dec. 21, and is forecast to be 24 percent lower than normal in the two weeks to Jan. 4, according to data compiled by BNP Paribas SA.
Europe is forecast to enjoy "widely above normal temperatures" into January, backed by both a strong El Nino and a strong Atlantic jet stream, Eleanor O'Neil, senior meteorologist at WSI, said.
"The Middle East and India have been exporting quite a lot of diesel and gasoil to Europe on the basis that it's a long-haul trade and when the winter comes it will be burned as heating fuel," said Jonathan Leitch, research director for refining and oil product markets at Wood Mackenzie Ltd. "Demand for heating fuel will be less than usual and if demand is not there, the stocks aren't going to be drawn down in the way we'd expect them to be."
Watch Next: Global Oil Glut: Producers Fight for Market Share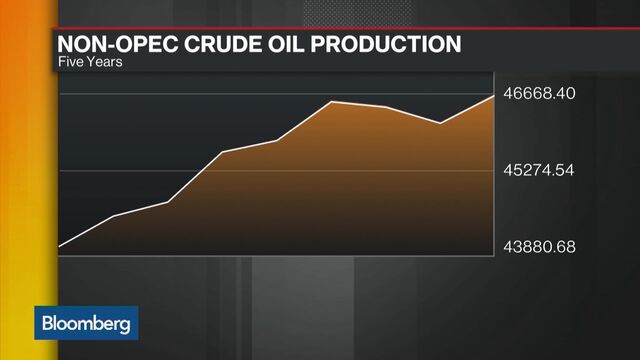 Before it's here, it's on the Bloomberg Terminal.
LEARN MORE