business
Musk Greets SpaceX Reusable Rocket With 'Welcome Back, Baby'
By and
Falcon 9 rocket takes off, sticks return landing in Florida

Billionaires Musk and Bezos race to develop reusable rockets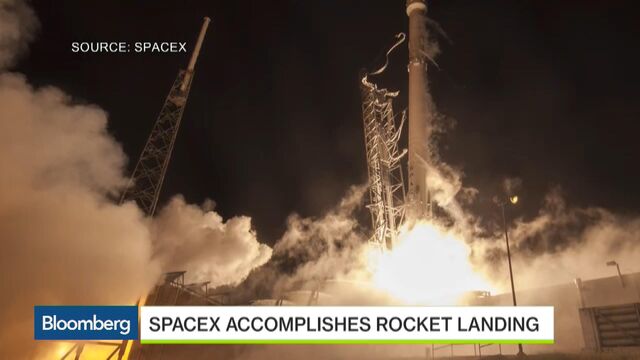 Elon Musk's SpaceX showcased his dream of reusable spacecraft by making a Falcon 9 booster the first piece of an orbital rocket to land back on Earth minutes after lofting satellites toward orbit.
Space Exploration Technologies Corp. pulled off the soft, vertical touchdown after the two-stage rocket propelled its payload of 11 Orbcomm Inc. satellites aloft. It was the company's first flight since a fiery blast destroyed a Falcon 9 rocket in June, minutes after lift off.
"Welcome back, baby!" Musk wrote in a Twitter post on his way to the landing zone.
Monday's mission helped validate Musk's vision for lower-cost spaceflight and provides SpaceX a boost in his race with fellow billionaire Jeff Bezos to develop craft that can survive fiery blasts and return to Earth to be reused. Instead of ditching the booster, SpaceX used thrusters and sophisticated navigation to steer it from space to Landing Zone 1, a former U.S. Air Force rocket and missile testing range.
Less than a month ago, Bezos made his debut on Twitter after sending one of his own test rockets to the edge of space and landing it safely back on Earth. In just his fifth post ever, the Amazon.com founder offered backhanded congratulations to SpaceX, writing "Welcome to the club!"
Cheaper Launches
Booster rockets have typically been left to tumble back to Earth after launch, leaving them broken up by the intense heat of re-entering the atmosphere. Landing them upright could help winnow the cost of access to space by 100-fold, Musk has estimated, since the bulk of launch costs comes from building a rocket that flies only once.
Recycling engines and the Falcon 9's 14-story, aluminum-lithium alloy first stage could enable SpaceX, already the cheapest launch provider in its category, to further undercut U.S. and European rivals. The Hawthorne, California-based company's standard launch cost is $61.2 million, according to its website.
Using rocket propulsion, SpaceX guided the stage to a slow, controlled stop at Landing Zone 1, a former U.S. Air Force rocket and missile testing range last used in 1978 in Cape Canaveral, Florida.
Musk's rocket is equipped with small, foldable heat-resistant wings, called grid fins, for steering as it plunges to Earth at four times the speed of sound. As it approaches touchdown, lightweight landing legs deploy.
June Blast
SpaceX had planned to attempt a barge landing following its last launch, the rocket that was destroyed in June. Musk has said an initial probe into the failure pointed to a two-foot-long, inch-thick strut, made by a supplier, in a liquid oxygen tank that snapped. SpaceX submitted its investigation report to the Federal Aviation Administration on Nov. 22.
Musk, 44, founded SpaceX in 2002 with the ultimate goal of enabling people to live on Mars. In May, SpaceX was certified by the Air Force to compete for military launches with United Launch Alliance LLC, a joint venture of Boeing Co. and Lockheed Martin Corp.
Monday's flight was the first for an upgraded version of SpaceX's rocket, named for the Millennium Falcon spaceship of "Star Wars" fame, using more powerful engines and reliability enhancements.
Before it's here, it's on the Bloomberg Terminal.
LEARN MORE