Japan Picks `Hamburger' Stadium Plan for 2020 Tokyo Olympics
by
Original design by Zaha Hadid scrapped after costs ballooned

Three-tier, 80,000-seat stadium to cost $1.2 billion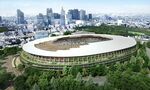 Japan selected a new design for the main 2020 Tokyo Olympics stadium, after it abandoned in July a futurist creation by British-Iraqi architect Zaha Hadid when cost projections soared to almost double original estimates.
The cabinet of Prime Minister Shinzo Abe on Tuesday decided on a design by a team led by architect Kengo Kuma that has been dubbed the "hamburger" on social media in Japan. The three-tier 80,000-seat stadium is estimated to cost 149 billion yen ($1.2 billion), and will be completed by November 2019. The government capped the cost at 155 billion yen after the projected cost of Hadid's stadium soared to 252 billion yen.
Abe's success in winning the hosting rights to the Games has been overshadowed by taxpayer anger over the stadium's price tag and the scrapping of a logo for the event over allegations of plagiarism. Any further increase in costs could hurt Abe's approval rating, which fell in the summer during protests against his unpopular legislation to expand the role of Japan's military. The overall projected cost of the Games has risen to 1.8 trillion yen, six-times the original estimate, public broadcaster NHK said last week.
The new design was approved less than a day after Toyota Motor Corp. President Akio Toyoda resigned from his position as vice-chairman of the organizing committee for the Games, without making his reasons clear for stepping down. 
The new stadium proposal calls for a wooden roof structure and a motif that shows off traditional Japanese design. At 49.2 meters, it is about 20 meters lower than the scrapped design that drew complaints that it dominated the surrounding area. Yoshihide Suga, the government's top spokesman, told reporters in Tokyo on Tuesday that the new design meets requirements on cost and the construction time. 
A shortlist of designs for the Olympic emblem will be announced early next year, with a final decision in the spring.
Before it's here, it's on the Bloomberg Terminal.
LEARN MORE