Happy Christmas, the War Is Over, at Least for Draghi and Euro
by
Euro now weak enough for economy to grow: HSBC, NAB, Santander

Currency declines versus dollar in 2015 after 12% drop in 2014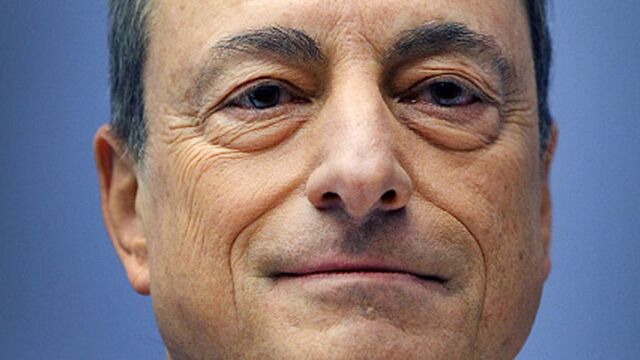 After European Central Bank President Mario Draghi extended monetary stimulus, strategists have come to the conclusion he's done enough to revive the economy with policies that helped push the euro down about 10 percent versus the dollar this year.
Analysts at HSBC Holdings Plc, Banco Santander SA and National Australia Bank Ltd. predict muted declines or even gains in the shared currency versus the dollar in 2016. The median forecast in a Bloomberg survey is for a drop of about 4 percent.
A combination of ECB quantitative easing and higher Federal Reserve interest rates will help the single currency hold onto its declines, the strategists say, while the latest data on jobs, manufacturing and inflation show the weaker euro is already starting to benefit the economy. The currency has given up some of its gains since Dec. 3, when the reboot of Draghi's bond-buying plan fell short of investors' expectations.

"It's effectively job done for him," said Gavin Friend, a strategist at National Australia Bank in London. "He reset the dial. He undid that a little bit by not really delivering in December, but the euro is still lower now because of what he's done and what the Fed is doing. The ECB will be very content to see activity levels where they are."
Friend expects the euro to remain little changed over the next 12 months to trade at $1.07 by the end of next year, compared with $1.0945 as of 7:41 a.m. in New York.
More Competitive
The path that made the euro a more competitive currency has been uneven. It has advanced almost 3 percent versus the dollar since Dec. 2, the day before the ECB chief cut the deposit rate and extended the bond-buying program known as quantitative easing by at least six months. Investors saw that move as falling short, and the euro strengthened to $1.1060 on Dec. 15.
Draghi had built up traders' expectations by saying Nov. 20 the institution will do what's necessary to spur inflation.
That surge masked his overall success in driving the currency down in a period during which central banks took turns deepening stimulus measures. They did that ostensibly to avert the threat of deflation, while some analysts said they produced a currency war. ECB officials don't have an explicit policy target for the euro, although injecting fresh money into an economy through quantitative easing tends to debase its value.
Since climbing to $1.3993 in May 2014, the strongest level since Draghi took office in November 2011, the euro has slid about 22 percent. A weaker currency pushes up the price of imports, helping the central bank's efforts to boost the region's inflation rate which, at 0.2 percent, is still just a fraction of its goal of just under 2 percent.
Creeping Back
"He has successfully driven it down and now it's starting to creep back to fair
value," said David Bloom, global head of currency strategy in London at HSBC, who correctly predicted the euro would rebound after the ECB's Dec. 3 meeting.
Bloom sees the euro advancing to $1.20 by the end of 2016. "Everyone wants a free lunch, so of course he'll try to drive or talk it down" further, though that won't work. "He can do great things but he cannot do miracles," he said, referring to Draghi.
The median of forecasts is for the euro to extend its drop against the dollar to $1.05 by year-end 2016, with futures signaling odds of 51 percent the Fed will raise rates again by its April meeting, after ending months of uncertainty by raising borrowing costs this month for the first time in almost a decade.
While Draghi said Dec. 14 that current stimulus will be enough to meet inflation goals, he still left the door open to more easing should officials decide that it's needed.
Divergence Trade
"We see a continuation of the divergence trade, with central banks going in different directions," said Neil Jones, London-based head of hedge-fund sales at Mizuho Bank Ltd., who sees the euro falling to one per dollar during 2016. "We see higher yields in the U.S. and a greater negative yield on the euro."
As Draghi's stimulus has begun showing signs of working, some analysts predict a more benign outlook for the currency. Citigroup Inc.'s Economic Surprise Index for the euro area has been positive since July, meaning data has been stronger than forecast, while that for the U.S. this month reached the most negative since June. Reports on Dec. 16 showed inflation in the currency bloc unexpectedly accelerated in November while manufacturing grew this month at a faster pace than economists predicted.
"A year ago you could get away with the idea that Europe was struggling and that the euro was too strong," said Stuart Bennett, London-based head of Group-of-10 currency strategy at Santander, the biggest Spanish bank by assets. Bennett sees the single currency appreciating to $1.18 next year. "The euro is at a level where it's cheap enough. There's no justification to try and manipulate it even lower, but that doesn't mean Draghi won't do it."
Before it's here, it's on the Bloomberg Terminal.
LEARN MORE