Guotai Junan International Shares Surge After Chairman Returns
Bloomberg News
Yim Fung resumes duties after assisting with China probes

Stock surges to three-week high in Hong Kong trading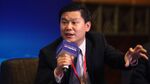 Guotai Junan International Holdings Ltd. shares surged the most in seven weeks in Hong Kong after the brokerage said its Chairman and Chief Executive Officer Yim Fung will resume his duties after a five-week absence to aid investigations by Chinese authorities.
Neither Yim nor Guotai Junan International, the Hong Kong unit of one of China's biggest securities companies, were subjects of the probes, the company said in a filing to Hong Kong's stock exchange. The company's operations are normal and stable, it said.
Guotai Junan International said in late November it had lost contact with Yim, a development that coincided with probes sweeping through China's finance industry that have entangled at least 16 people, including securities executives, a fund manager and regulators. The investigations came as authorities sought to curb insider trading and short selling in the wake of the nation's summer stock rout.
Shares of Guotai Junan International climbed 7.3 percent to HK$2.80 as of 9:41 a.m. in Hong Kong, the most since Nov. 4. The stock had slumped 20 percent through yesterday since the company said Nov. 23 that Yim hadn't been contactable for five days. The firm appointed an acting chairman and an acting CEO, saying Yim wasn't able to "discharge his duties."

"This is a positive development for Guotai Junan," Chen Xingyu, a Shanghai-based analyst at Phillip Securities Research, said by phone. "Investor concerns over the company will be alleviated now that this has turned out to be a false alarm."
Surprise rippled through Hong Kong's securities industry after Yim's disappearance, an absence that was amplified by his reputation as a cautious, conservative, successful businessman and his prominence in the city, including as a former chairman of the Chinese Securities Association of Hong Kong.
Yim built Guotai Junan International without the types of acquisitions that contributed to the expansions in Hong Kong of rivals such as Citic Securities Co. and Haitong Securities Co. The firm listed on the stock exchange in Hong Kong in 2010, the first mainland-owned brokerage to do so.
Born in mainland China, Yim is in his 50s, and has lived in Hong Kong for more than a decade. His long run with Guotai Junan International -- he joined in 2000 -- has been partly because of his status as a permanent Hong Kong resident, which meant he wasn't transferred back to the mainland after only a few years, as executives of other state-owned enterprises operating in the city have, he told a Hong Kong Institute of Directors publication in 2013.
A press officer at parent Guotai Junan Securities Co. in Shanghai said the company has nothing to add beyond what had been disclosed by its Hong Kong unit.
— With assistance by Aipeng Soo
Before it's here, it's on the Bloomberg Terminal.
LEARN MORE