ExxonMobil and Sierra Club Agreed on Climate Policy—and Kept It Secret
A forgotten accord reached in 2009 may yet have relevance for the future of U.S. climate policy.
By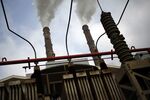 ExxonMobil and Sierra Club may be thought of as natural enemies, particularly when it comes to a question so tricky as how to address climate change. That's what two men named David thought, too, when they first met in 2008 to talk about a climate policy with very little support: a national tax on industrial carbon dioxide emissions. Secretly, however, they found that a common problem—the threat of unwieldy legislation—can for a time scramble the very idea of friends and enemies.