Europe's Warmest Year Heralds Free German Power for Christmas
by , , and
Wind output may prompt producers to pay buyers to take power

Mild weather to add to reduced holiday season demand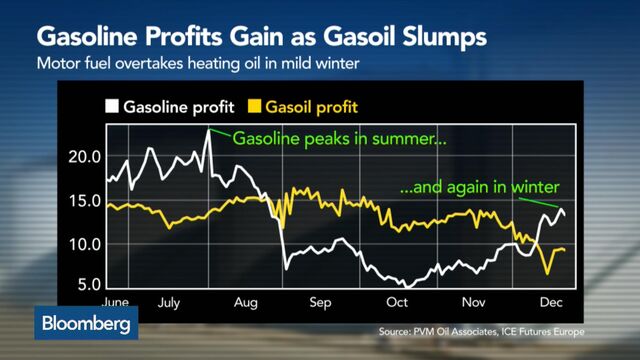 German power prices are poised to sink or even turn negative this Christmas as increased wind generation combines with low demand from mild weather.
Prices may be below zero for hours or even whole days during the holiday season unless utilities shut coal- and gas-fired stations when wind output rises, according to Markedskraft Deutschland GmbH, an energy consultant. On Christmas day, German wind output is forecast to peak at almost double the average for the past 30 days, while a warmer-than-normal December is set to make 2015 Europe's hottest year on record.
Pressure on prices in Germany, the region's biggest power market, will be even higher this year as electricity from renewables is set to meet a third of the nation's gross power demand, up 20 percent from 2014, data from the economy ministry and energy lobby group BDEW show. Deciding whether to halt conventional power plants in gusty conditions or keep them online to maintain security of supply will be crucial for prices as wind generation fluctuates, according to Societe Generale SA.

"With wind, it matters how it happens, not just the quantity," Paolo Coghe, a senior analyst at SocGen, said by phone from Paris on Dec. 18. "If wind generation is high and demand is low there will be excess power in the grid if nuclear, lignite and hard coal plants would rather continue generating and earn negative prices for a little while than scale back production."
Wind generation is forecast to swing between 10 gigawatts and more than 20 gigawatts during the holidays, with temperatures as much as 8 degrees Celsius (14 degrees Fahrenheit) above normal, according to Andreas Gassner, senior meteorologist at MeteoGroup. German wind output is forecast to reach as high as 22.9 gigawatts on Dec. 25, compared with a 30-day average of 14.7 gigawatts, data compiled by Bloomberg show. One gigawatt is enough to power 2 million European homes.
Wind generation climbed to 32.9 gigawatts at 9:45 p.m. Berlin time Monday, the highest output ever recorded by European Energy Exchange AG.
German power prices have turned negative in previous holiday periods. The day-ahead price fell to minus 56.87 euros ($61.74) a megawatt-hour on Dec. 24, 2012, and was also negative at Christmas in 2013, according to the European Power Exchange in Paris. Negative prices mean that producers pay consumers to take the electricity off the grid.
Residual demand, the difference between consumption and the supply from renewable sources, is estimated at about 22 gigawatt-hours below the 30-year average in the last two weeks of this year, according to Blazej Radomski, the head of analysis for Germany at MKonline, a web-based research service for Markedskraft. In the previous two years, it was above that average and prices still turned negative at certain times.
"Christmas is always a special situation as the past years have shown," Ricardo Klimaschka, power trader at Energieunion GmbH, said by phone. Less wind is needed to drive wholesale prices lower, "because nobody needs electricity."
Before it's here, it's on the Bloomberg Terminal.
LEARN MORE