ECB Diaries Show Investor Meetings Curbed Before Decision
by
Entries show no engagements in week to Oct. 22 policy meeting

Central bank striving to damp perceptions of unequal access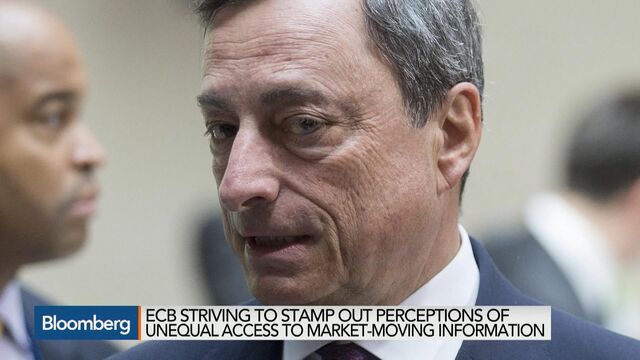 European Central Bank diaries suggest Executive Board members have curbed meetings with banks and asset managers in the days and hours before monetary-policy decisions.
The records, provided to Bloomberg by the ECB after a Freedom of Information request, show officials have scaled back engagements at the most sensitive times, while continuing to meet with investors, including hedge funds, on other dates. The Financial Times reported last month that senior ECB policy makers met with lenders directly before major Governing Council announcements in 2014 and 2015.
The diaries may signal a shift in culture at the central bank, which is striving to stamp out perceptions of unequal access to market-moving information. In recent months the Frankfurt-based ECB, led by President Mario Draghi, has reinforced its rules on board members' conduct and openness.
Draghi, Vice President Vitor Constancio and Executive Board members Peter Praet, Benoit Coeure and Yves Mersch held no meetings with members of the financial community in the seven days before the Oct. 22 Governing Council session, the diary entries show. Sabine Lautenschlaeger, who is also vice president of the ECB's bank-supervision arm, attended a regulatory update.
Cutting Back
The scaling back contrasts with the FT's report last month that Coeure and Mersch met with UBS Group AG the day before the September 2014 policy decision when interest rates were cut. Coeure met officials from BNP Paribas SA on the morning of that decision and also with BlackRock Inc. in March, the day before the Governing Council unveiled details of its quantitative-easing program, the diaries showed.
The FT report was also based on a Freedom of Information request. An ECB spokesman was cited at the time as saying no market-sensitive information is disclosed in any non-public forum.
The diary entries obtained by Bloomberg News suggest board members are adhering to guidelines that expect them to remain quiet on monetary-policy matters in the seven days before decisions. In a letter to an EU lawmaker published on Dec. 3, Draghi said they would "refrain from meeting or talking to the media, market participants or other outside interests on monetary policy matters during the quiet period."
An ECB spokesman said that Executive Board members reaffirmed their adherence to the quiet-period principle earlier this year and the central bank has published guidelines that underscore a commitment to transparent two-way communication.
Quiet Time
While the records showed no meetings with asset managers and hedge funds during the quiet period, board members continued with appointments at other times in September and October. Coeure's entries show meetings with Moore Europe Capital Management, Paulson & Co. and Algebris Investments. The ECB said he discussed "financial-market developments" at each of those events, and at another with Citigroup Inc. 
On one day -- Sept. 14 -- Praet, the ECB's chief economist, met with Templeton Global Advisors, Janus Capital, PointState Capital, Fortress Capital, Wellington Asset Management, Schroders, JPMorgan Asset Management, Capital International, Berenberg and Moore Europe. Those meetings were held at the ECB in Frankfurt. On others dates, he met with hedge fund Algebris, and banks BNP, Deutsche Bank AG, Nomura Holdings Inc. and UniCredit SpA.
Spokesmen for Citigroup, Fortress, Janus, PointState, Algebris, Schroders, JPMorgan, BNP Paribas, Deutsche Bank, Nomura and UniCredit declined to comment. Franklin Resources, which owns the Templeton brand, didn't return an e-mail seeking comment. Spokesmen for the other firms didn't immediately provide comment.
Reaffirming Commitment
Since an incident on May 18, when Coeure inadvertently disclosed market-sensitive information to a closed-door meeting of investors before it was released to the public, the central bank has pushed back against suggestions that it was uneven in its handling of policy news.
It announced guidelines on Oct. 6 regulating officials' speeches and meetings with market participants. Later that month, it said the meeting schedules of board members will be published monthly, with a three-month time lag, starting in February.
The ECB's next monetary-policy meeting is scheduled for Jan. 21 in Frankfurt.
Before it's here, it's on the Bloomberg Terminal.
LEARN MORE