De Blasio Tested by New York's Vexing Affordable-Housing Crisis
By and
As city grows and prospers, demand for housing raises rents

A Brooklyn hospital worker stays ready for a forced move
Bill de Blasio's plan to create apartments for New York's poor and middle class has come under fire from community leaders who say that what developers and the mayor call "affordable" remains out of reach for those in need.
De Blasio, the first Democrat in 20 years to run the largest U.S. city, set an unprecedented goal of preserving or building 200,000 units of below-market-rate housing by 2025. He plans to offer developers more profitability with bigger and taller buildings as long as they reserve 25 percent to 30 percent of the units for lower-income renters. He also boosted funds for free legal services to protect tenants from evictions and illegal rent increases.
Yet, instead of praising de Blasio as their protector, most of the city's 59 local community boards rejected his plan. In Brooklyn's East New York, the board complained that the mayor's definition of affordable would exclude more than half its residents. Several boards oppose new towers out of concern they would attract more people and better amenities, and improve neighborhoods to the point that rents soar.
For de Blasio, 54, who won control of City Hall promising to favor the poor over the rich, the disenchantment carries high political stakes and has emboldened opponents as his term hits the half-way mark and he looks toward a 2017 re-election campaign.
One of them is Bronx Borough President Ruben Diaz Jr. This month, he led the Bronx's 12 community boards in a unanimous vote against the proposals. While the panels' role is only advisory, they influence the 51 council members who eventually decide zoning issues.
"Achieving our city's affordable housing goals cannot be accomplished in a vacuum," Diaz told the city Planning Commission at a Dec. 16 hearing. "Will neighborhood residents even be able to get these new apartments?"
Looming Increase
For Sharon Murray Pryce, affordable housing isn't just a debating point for New York City politicians. It's a looming rent increase she can't afford.

Her two-bedroom apartment in Brooklyn's gentrifying Crown Heights neighborhood can barely fit her and her three children. The $1,248 rent already devours half her monthly pay, and her landlord wants to raise it to about $2,880 as richer newcomers push long-timers out. That's the kind of dislocation de Blasio has vowed to stop in a city where about 400,000 rent-regulated apartments have gone market rate in the past decade.
"I work as a clerk in a hospital emergency room, and I see all the homeless families, and now I might be one of them," the 45-year-old Pryce said as her eyes welled with tears. Her living room is a jumble of cardboard boxes already packed with some of her belongings, just in case. "I have nowhere to go."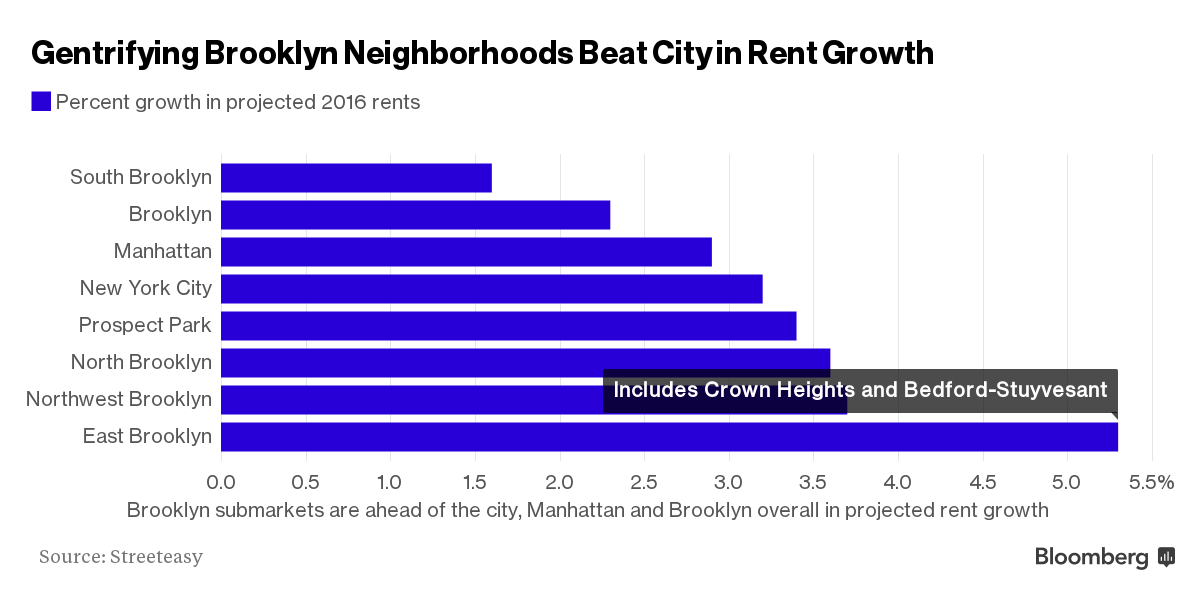 Pryce's desperation, multiplied by several hundred thousand other city residents, illustrates the difficulties de Blasio faces. As profits from Wall Street and other white-collar industries overheat New York's real estate market, housing has become a luxury product.
"Developers of new housing don't want to build for the mere middle class," said Sharon Zukin, a Brooklyn College sociology professor who has studied gentrification. "They want to build for the rich and the super-rich."
The mayor's plan would change zoning laws to permit developers to construct taller buildings as long as they reserve 25 percent for residents at 60 percent of the "area median income," or $46,620 for a family of three. If they agree to set aside more affordable housing, the income requirement is more lenient.
Revised Rules
The Planning Commission, an independent panel, is empowered to revise the de Blasio plan and it will submit its changes within 60 days. The council will consider the proposal no earlier than June.
Market-rate units in higher-density buildings, even with a percentage reserved as affordable, will promote gentrification no matter how many subsidized units are included, said Alicia Boyd, founder of the Movement to Protect the People, a group of self-described affordable-housing activists based in Lefferts Garden, Brooklyn, a community near Prospect Park.
"You're actually incentivizing the development of luxury housing and the creation of unaffordable communities," Boyd said.
De Blasio says he's listening. Citing predictions that the city's population will surpass 9 million with in 25 years from 8.4 million now, he says that if his plan isn't adopted, inexorable market forces will drive out everyone but the wealthy.
"I don't accept the notion of a neighborhood that is struggling or suffering and just let's leave it that way," he said during a Dec. 10 news briefing. "And I certainly don't accept the notion that if we do nothing, everyone's affordable housing will just stay the way it is. That defies everything we understand about market dynamics."