Photographer: Mike Harrington/Getty Images
Christmas in New York: Fire Up the Grill After Cutting the Lawn
by
Christmas Eve could mean records for New York, Washington

The only place to find winter is in the west this year
There won't be any cold and snow in the eastern U.S. this Christmas. You'll be hard-pressed to find any in the cities of eastern Canada as well.
While Tuesday marks the first full day of winter, the only place to find evidence of that is going to be in the West. In the East, if it wasn't going to be raining in most places, Christmas Eve could be a good day for some backyard barbecuing.
"To say it will be unseasonably warm would be underplaying it," said Jim Hayes, a meteorologist with the U.S. Weather Prediction Center in College Park, Maryland. "We could see all-time record highs."
From the Mississippi River to the East Coast, as well as deep into Ontario, Quebec and New Brunswick, temperatures will linger 15 degrees Fahrenheit (8 Celsius) above normal through Christmas Day, according to MDA Weather Services in Gaithersburg, Maryland.
The high in Manhattan on Thursday is forecast to reach 70 degrees, which would break the old record of 63 set in 1996, said John Cristantello, a meteorologist at the National Weather Service in Upton, New York. Readings on Christmas Day will probably reach into the 60s.
In Check
"I have never seen a Christmas this warm," said Steve LaVoie, a meteorologist with Hometown Forecast Services Inc. in Nashua, New Hampshire. The only thing that could keep the records in check is when the clouds and rain make it from the central U.S. to the East.
The forecast calls for a high of 75 in Washington Thursday. If the rain and cold front are delayed, readings could come in higher. Hayes said it was possible for parts of Virginia and North Carolina to reach the 80s.
The mild story is the same throughout the eastern half of the continent, the result of an unusually strong El Nino.
Montreal and Toronto could reach 57, according to Environment Canada. Boston could be 10 degrees warmer and Philadelphia reach into the 70s. 
"As you head west you start to find winter," LaVoie said. 
On Monday, winter storm warnings and advisories spread from central Washington to western Colorado and into California's Sierra Nevada, the weather service said. "We are looking at a continued onslaught of precipitation coming in off the Pacific," Hayes said.
That's the opposite of the last few winters, when the West was mild and the East was cold. Last year, western ski resorts had bare, dry ground for much of the season. This year it's their eastern counterparts that are hoping for snow, LaVoie said.
The cold won't bite deep enough to create favorable conditions for snow, LaVoie said. Mild temperatures in the East are fine, "but unfortunately there are people who depend on winter weather and then there are enthusiasts of winter as well," he said.
There's still hope, albeit slim. Last year temperatures reached into the high 50s and 60s across southern New England before the region was buried in snow starting about a month later.
Of course, there wasn't a strong El Nino holding sway across the equatorial Pacific, almost ensuring mild weather will persist.
Actually, maybe water skiing will be the way to go.
Watch Next: A Brief History of Global Warming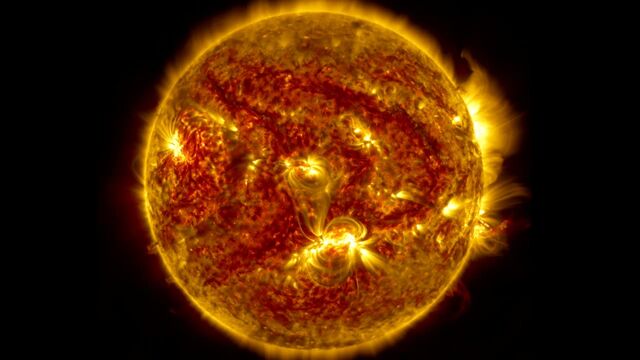 Before it's here, it's on the Bloomberg Terminal.
LEARN MORE