China Rights Lawyer Gets Suspended Sentence Over Blog Posts
Bloomberg News
Pu Zhiqiang found guilty of `inciting ethnic hatred'

Lawyer made online posts deemed critical of Communist Party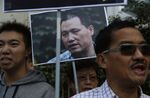 Pu Zhiqiang, an outspoken human-rights lawyer who has defended some of China's top dissidents, received a three-year suspended sentence after being convicted over charges related to seven online posts deemed critical of the ruling Communist Party.
A Beijing court ruled that Pu, 50, was guilty of "inciting ethnic hatred" and "picking quarrels and provoking trouble" for his criticism of the party and its policies toward the Uighur minority group in the northwestern region of Xinjiang, the official People's Daily said on its Weibo social media account. Pu acknowledged the charges and made "sincere apologies," the official Xinhua News Agency said on its Weibo account.
While the sentence means Pu will soon be released, he has already served 19 months in jail awaiting trial. He was detained in May 2014, the day after attending a seminar with other activists on the Tiananmen Square massacre. The guilty verdict means his license to practice law will be suspended.
"It's quite a disappointment that the authorities still believe Pu is guilty
after we fought in the court for innocence," said Shang Baojun, Pu's lawyer. "But it's good he's out of the jail."
Pu's prosecution is part of a broader crackdown on dissent under President Xi Jinping, who came to power in November 2012. While Xi has pledged to expand the rule of law in China, he has simultaneously clamped down on anyone who dares challenge the authority of the Communist Party. In July, authorities detained more than 300 rights activists and lawyers as the campaign against dissent spread.
"From the perspective of the Chinese government, going after people like Pu through legal procedures for essentially political crimes has significant reputational costs abroad," said Graham Webster, a senior fellow at Yale Law School's China Center. "Either officials do not understand these costs, or they believe the costs are acceptable in pursuit of the objectives of neutralizing potential threats to stability and making an example of prominent individuals. I suspect the latter."
Pu is the most prominent of a wave of dissidents that have been detained under Xi. Gao Yu, a 71-year-old journalist convicted of leaking state secrets, was released on medical parole last month when she agreed to plead guilty after being held in prison for about a year. Pu didn't offer a guilty plea at his one-day trial on December 14. He doesn't plan to appeal today's verdict and sentencing, Shang said.
A student activist in 1989, Pu participated in the pro-democracy protests at Tiananmen Square that ended when the People's Liberation Army opened fire on demonstrators, possibly killing hundreds and ending the biggest challenge to Communist Party rule since the end of the Chinese civil war in 1949. After Tiananmen, Pu studied law and subsequently campaigned against the party's practice of arbitrary detentions of activists and party members. He also defended some of the country's highest profile dissidents such as artist Ai Weiwei.
— With assistance by Keith Zhai
Before it's here, it's on the Bloomberg Terminal.
LEARN MORE