China's Year of Tumult Puts Xi's Governance Under the Microscope
by
Market rout, Tianjin blast shook confidence in Xi's leadership

Xi's commitment to economic overhaul to be tested in 2016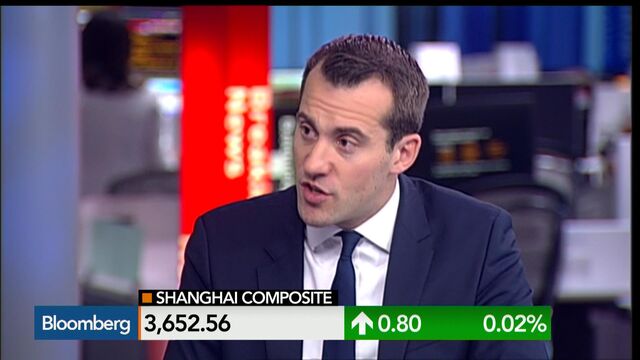 Looking out over Beijing's Tiananmen Square as tanks rumbled by and fighter jets roared across a brilliant blue sky, Chinese President Xi Jinping looked like power personified during a Sept. 3 military parade.
Yet as thousands of soldiers saluted Xi, China was grappling with a series of crises. Policy makers scrambled to counter the effects of capital outflows after a surprise central bank decision that devalued the yuan almost 2 percent. Several executives from brokerages faced scrutiny over a $5 trillion stock-market wipeout. And crews were still clearing toxic rubble from explosions in the port of Tianjin that killed more than 170 people and laid bare the risks of decades of lax oversight that accompanied breakneck economic growth.
Those tumultuous weeks encapsulated the most challenging year Xi has faced since coming to power in 2012. While the Communist Party leader saw victories such as the yuan's designation as a global reserve currency, his handling of the market crash and slowing output raised questions about whether the government is committed to the tough choices necessary to guide growth lower and ease the economy's dependence on debt.
"In domestic politics terms, 2015 was a difficult year for Xi, but it was nothing like an annus horribilis," said Steve Tsang, a senior fellow at the University of Nottingham's China Policy Institute. "I would be surprised if he was not planning a major fight-back in 2016. How the economy performs and how the party can ensure it does well will be the key issue."
Next year will help clarify how well Xi's administration has done juggling all those issues as well as others, including efforts to streamline bloated state-owned enterprises and confront a rapidly aging workforce. Delivering robust economic growth has been the main source of the Communist Party's legitimacy for the past three decades, and any further erosion of faith in the government's ability to maintain the economic juggernaut risks prompting more direct challenge to its rule.

2016 Plans
On Dec. 21, the leadership's Central Economic Work Conference, outlining its plans for 2016, signaled it would deploy more fiscal stimulus to prop up growth. The government is seeking at least 6.5 percent annual growth in the coming years, and the statement said leaders plan to increase the deficit, raising new concerns that China still isn't prepared to confront overall debt estimated at 280 percent of gross domestic product. Xi is expected to give a New Year speech on December 31 to highlight his past year accomplishments and set out his main goals for next year.
The work conference plan, along with the 6.5-percent growth floor, raised fresh skepticism about Xi's commitment to press toward a "new normal" of slower, steadier growth that depends on Chinese consumer spending and not on massive projects such as airports and high-speed rail. One scenario the leadership wants to avoid: Japan's "lost decade" of massive debt and minimal growth.
"Productivity-enhancing reforms have been slow to emerge and the central bank has now essentially conceded that growth will continue to be supported by a rise in leverage instead," said Arthur Kroeber, the Beijing-based founding partner and managing director at Gavekal Dragonomics, a research firm. "This is a viable strategy but clearly suboptimal, and clearly raises the risk that China in a few years will end up looking a lot like Japan."
SOE Overhaul
Several other events this year showed the challenges Xi will face as he presses ahead with China's economic transformation. The long-awaited overhaul of state-run industries appeared to strike a contradictory tone, calling for more diverse ownership as well as reaffirming Communist Party supervision over behemoths such as China National Petroleum Corp.
Rather than ditch restrictions on family size altogether and dismantle the national family-planning agency with its thousands of employees, Xi replaced the country's "one-child policy" with a two-child limit. And while stocks are up about 13 percent this year, a government intervention to arrest the July stock market rout undercut Xi's stated commitment to market reforms. Regulators banned stock sales by major shareholders and ordered government-owned institutions to maintain or boost holdings.
Tianjin Blast
Like the stock crash, the deadly blasts in Tianjin risked undercutting party support among China's growing middle class, a key constituency Xi has sought to woo with promises of national rejuvenation -- his so-called "China Dream." The cause of the blast originated with 700 tons of sodium cyanide stored improperly at a warehouse close to residential high-rises, and drew some of the most open criticism of Xi during his time in power.
The year was bookended by a pair of other avoidable tragedies that sparked public outrage. A massive landslide on Dec. 20 caused by the collapse of a man-made mountain of construction waste plowed into an industrial park in the southern city of Shenzhen, with more than 70 people still missing. The year began with a stampede at a New Year's celebration in Shanghai that killed 36.
The lax enforcement of safety rules that contributed to the Tianjin blast and the Shenzhen landslide has, along with corruption and pollution, riled China's citizenry enough to spark violent protests. Against that backdrop, Xi's push to reform China's economy takes on an added degree of difficulty as a prolonged slowdown and worsening employment to risk undermining social stability.
Media Clampdown
Xi has widened an ideological clampdown on government critics, even those among the party's 88 million members. A Xinjiang newspaper editor was the first of several cadres disciplined under a revised code of conduct released in October, that prohibits "improper discussion" of party policies and principles.
"The continuing clampdown on media, academia and the professions suggests lack of confidence and risks economic slowdown by discouraging necessary transparency and entrepreneurship," said Rana Mitter, a professor of modern Chinese history and politics at the University of Oxford. "We can expect illiberal times for some years to come."
Xi had some clear successes in 2015. He secured the yuan's inclusion as an international reserve currency and established the Asian Infrastructure Investment Bank, drawing the participation of several U.S. allies despite Washington's opposition. He worked with U.S. President Barack Obama in Paris to forge a global deal to fight climate change and executed several high-profile state visits including a U.K. tour in which he showed a more-relaxed side.
Ma Meeting
His November meeting with Taiwanese President Ma Ying-jeou set a new high-water mark in relations with the party's civil war rival. And the initiative to streamline the 2.3 million-member People's Liberation Army strengthened his grip on the ultimate guarantor of party rule.
"He had a difficult time in the middle of the year, but the military reforms suggest he is back on track," said Joseph Fewsmith, a political science professor at Boston University who studies China's elite politics. "Not his best year, but ending on a high note."
Xi's challenge is that since taking power, he has assumed control over issues including finance and economic reform, sectors previously overseen by the country's premiers. While such moves broaden his reach, they also mean he will be seen as responsible for whatever happens -- good or bad.
"After the initial two years of rapid power consolidating, the third year was marked by question marks about his governing capabilities," said Zhang Lifan, a Beijing-based historian. "Looking ahead, the more you're at the center of the power game, the more you cling to power. The greater the potential risk, the tighter the control."
Before it's here, it's on the Bloomberg Terminal.
LEARN MORE