China's Earliest Economic Indicators Show Signs of Stabilization
Bloomberg News
Baidu search data suggest slight improvement at smaller firms

Alternative gauges help fill void after two indexes are ended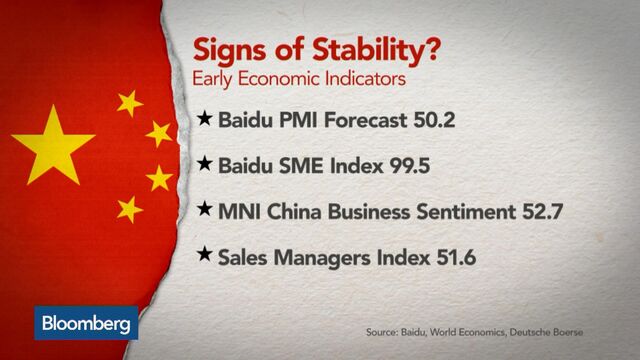 China's policy makers, armed with their 2016 economic plan, can take heart they'll start the year on firmer footing as the earliest indicators for December show more signs of stabilization.
Improvements are visible in gauges from search engine data to executive surveys, additional ways to take the economy's pulse that can help fill the void after private providers recently suspended two of the earliest reads on data.
Leaders of the world's second-largest economy have signaled they'll do more to prevent a sharp slowdown, including widening the fiscal deficit and cutting an oversupply of housing, according to a statement Monday from a key planning conference. Authorities say growth can meet their target of about 7 percent this year. Economists surveyed by Bloomberg project a 6.9 percent 2015 pace and 6.5 percent next year.
China watchers have a tougher job of gauging the economy after losing two purchasing-manager surveys previously issued in the same month as the one being measured. The preliminary reading of an unofficial purchasing managers index from Markit Economics Ltd. and Caixin Media was scrapped in October, and a PMI from China Minsheng Banking Corp. and the China Academy of New Supply-side Economics was suspended this week.
Reports that showed no further deterioration contrasted with another New York-based survey this week that showed a worsening business climate.
Economic conditions deteriorated across the board in the fourth quarter, according to a private survey from China Beige Book published by research group CBB International. National sales revenue, volumes, output, prices, profits, hiring, borrowing, and capital expenditure were all weaker than the prior three months, the report said.
Here's a look at what some of the latest indicators show for the last month of the year:
Baidu PMI Forecast
An unofficial forecast of the government's manufacturing purchasing managers index signaled a stabilization this month. Baidu Inc.'s December projection edged up to 50.2 versus an official reading of 49.6 in November. Numbers above 50 indicate improvement.
The company, which handles more than 6 billion searches a day, estimates readings up to three months ahead using data from queries. PMI will stay at 50.2 in January, and edge up to 50.3 in February, according to Beijing-based Baidu, which updates the projections around the 10th of each month. China's official PMI hasn't been above 50 since June.
Baidu SME
Another index Baidu's number crunchers compile from search data tracks interest in the products and services of smaller companies. That also showed slightly better conditions at small- and mid-size enterprises that contribute about 60 percent of China's economy.
The preliminary reading for the SME index, in which readings below 100 signal deterioration, edged up to 99.5 this month from a final reading of 99 in November. Most sub-indexes for sectors of the economy were little changed this month from November, with coastal regions such as Guangdong seeing a stronger pickup.

Sales Managers
There was a slight pick up in an index based on a monthly survey of sales managers for medium and large private companies. The reading rose to 51.7 in December from 51.6 in November, according to London-based research firm World Economics Ltd. A sub-gauge of manufacturing picked up slightly to 51.4 while there was a marginal decrease in services.
The first quarter will see continued "low levels in growth with possibly a small improvement in business conditions," Chief Executive Ed Jones wrote in an e-mail. "The big slowdown has at least plateaued and services are continuing to be the main driving force behind the economy."
Business Sentiment
The MNI China Business Sentiment Indicator rose to 52.7 from 49.9 in November. The index published by New York-based financial data provider Market News International Inc. is relatively volatile, based on a monthly survey of executives at companies listed on the Shanghai or Shenzhen stock exchanges.
"Relatively modest easing in the MNI China Business Sentiment Indicator over the year as a whole suggests China is undergoing more of a bumpy rather than hard landing," Philip Uglow, chief economist of MNI Indicators, wrote in an e-mailed statement. "While our expectation is that growth over 2016 will likely ease further, continued reforms and a gradual structural shift in the economy away from industrial overcapacity towards greater depth in the service economy will pave the way for more sustainable growth."
— With assistance by Xiaoqing Pi
Before it's here, it's on the Bloomberg Terminal.
LEARN MORE