CBS CEO Moonves Said in Line to Be Chairman After Redstone
by and
Deal with Shari Redstone limits possible succession battle

Judge rejects ex-girlfriend's demand to interview 92-year-old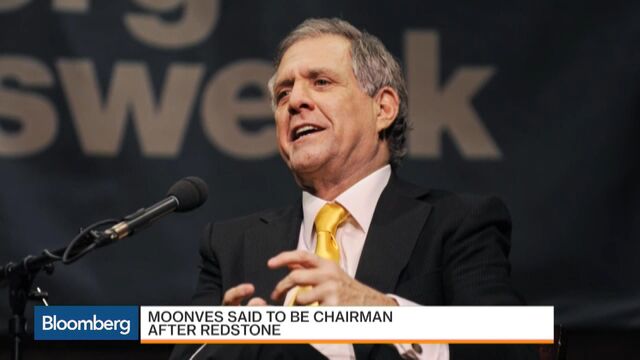 CBS Corp. Chief Executive Officer Leslie Moonves would become chairman of the broadcaster upon the death of Sumner Redstone under an agreement with Redstone's daughter Shari, according to a person familiar with the situation.
The arrangement lessens the potential for discord over succession at CBS after the death of Sumner Redstone, the 92-year-old billionaire who controls both CBS and Viacom Inc. and serves as chairman of both media companies. Moonves and Viacom CEO Philippe Dauman have employment contracts that allow each of them to leave with millions of dollars in severance if they aren't made chairman once Sumner Redstone is gone.
A provision of the Redstone family trust allows Shari Redstone to become chairman of CBS and Viacom, the Wall Street Journal reported earlier. Shari Redstone doesn't have a similar arrangement with Viacom's Dauman.
Sumner Redstone controls the majority of the voting shares of both CBS and Viacom through a family holding company, National Amusements Inc. His interest will pass to the trust, set up for the benefit of his five grandchildren, which will be run by seven trustees who include Shari Redstone and Dauman.
CBS rose 1.8 percent to $46.61 at the close Tuesday New York. Viacom was up 4 percent to $40.78. Shares in the two companies have fallen 16 percent and 46 percent in 2015, respectively.

Shari Redstone, 61, is currently vice chairman of both CBS and Viacom. The 2002 trust stipulates she would be elevated once her father dies, and she subsequently worked out the side agreement with Moonves, the Journal reported, citing documents it reviewed. The newspaper said that Shari Redstone rejected a $1 billion offer from her father made in November 2014 for her 20 percent stake in National Amusements.
"It appears that third parties accessed and then disclosed to the Wall Street Journal highly confidential documents," Nancy Sterling, a spokeswoman for Shari Redstone, said Monday in a statement. "We do not know what documents were disclosed and we have no further comment."
Manuela Herzer, an ex-girlfriend of Redstone, sued the billionaire last month, claiming he was mentally incompetent when he kicked her out of his house and put Dauman in charge of his health care if he could no longer make decisions on his own.
California probate court Judge David Cowan rejected Herzer's request to interview Redstone on Monday. She won the right to question his doctors and possibly Dauman.
Before it's here, it's on the Bloomberg Terminal.
LEARN MORE