Beijing Air Pollution Worsens Though Red Alert Set to Be Lifted
Bloomberg News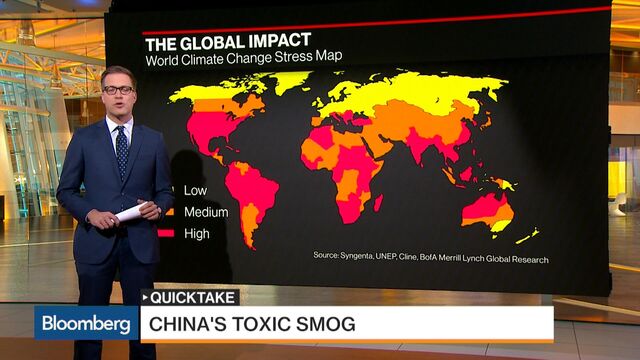 Air pollution in Beijing worsened even as environmental regulators embarked on a round of inspections to evaluate emergency measures being taken in China's north to curb the toxic levels of smog.
Concentrations of PM2.5 -- the smallest particles that pose the greatest health concern -- rose to 435 micrograms per cubic meter at Tiananmen Square as of 3 p.m, almost double the previous day's levels, the city's municipal monitoring center said. The World Health Organization recommends daily average exposures of no more than 25 micrograms.
The air quality index in Beijing was 295, indicating "heavy" pollution, the local environmental monitoring center said.
Last week, the toxic smog prompted Beijing officials to issue a second red alert for the city, the highest on a four-tier warning scale. The alert, running through the end of today, has prompted school closures, traffic restrictions and limits on factory production. Air quality in the Chinese capital may improve tomorrow, the monitoring center forecasts.
Toxic smog enveloping a majority of China's northern and eastern regions continues to apply pressure to local governments to take counter measures. Red alerts have been imposed in at least five cities including Beijing and four in the surrounding Hebei province, the Ministry of Environmental Protection said on Monday.
The ministry said it has dispatched 14 inspection teams to 11 Chinese regions to evaluate emergency actions taken to reduce pollution.
— With assistance by Feifei Shen
Before it's here, it's on the Bloomberg Terminal.
LEARN MORE