What Happens Next: Spain's Divided Parties Maneuver for Power
by
As many as 10 parties could be involved in coalition talks

New Spanish parliament must be called into session by Jan. 13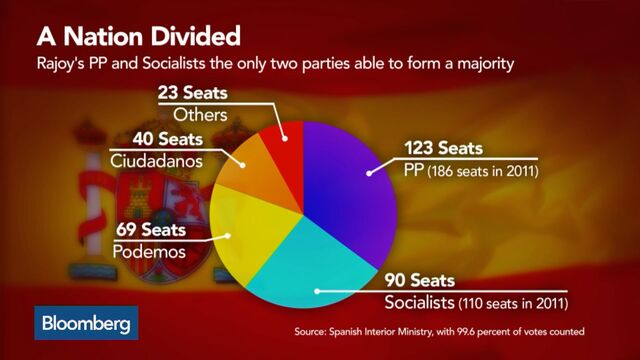 Spain is looking at a drawn out period of talks between as many as 10 different parties after Sunday's general election produced the most divided parliament of the democratic era with no obvious governing alliance.
Under Spanish law a party leader needs to win an outright majority in the 350-seat chamber to be elected prime minister at the first attempt. In subsequent rounds, it's enough to win the most votes, so tactical abstentions can help a candidate get over the line.
The new parliament must be called by Jan. 13. Once the session begins lawmakers have two months to elect a government. If they fail, the acting prime minister has to call a new election.
So where do we go from here?
OPTION 1: Rajoy's PP forms a government
* Rajoy needs the Socialists to help him if he's going to serve another term. He'd need their backing in the first round, but an abstention would be enough in the second round, so long as Ciudadanos also agrees to stand aside. An abstention from liberals of Ciudadanos wouldn't be enough because the Socialists and Podemos could still block Rajoy.
OPTION 2: A Socialist-led administration
*The Socialists could lead a coalition of left wing-parties including Podemos and United Left. Those three parties have 161 seats between them, but they could in theory get to a majority of 176 by adding support from nationalist groups who have 26 seats between them. Even an abstention from the nationalists would be enough to let that alliance through.
* The Socialists and Ciudadanos have only 130 seats between them, so a more centrist government would require the PP to abstain.
OPTION 3: Stalemate
* If no one can agree on who should govern, Spaniards could be asked to vote all over again in the first half of next year.
Before it's here, it's on the Bloomberg Terminal.
LEARN MORE