Treasuries Poised to Break Losing Streak Even After Fed Increase
by and
U.S. debt advances in December amid declines in oil, stocks

Bond investors seen differing with Fed view of U.S. economy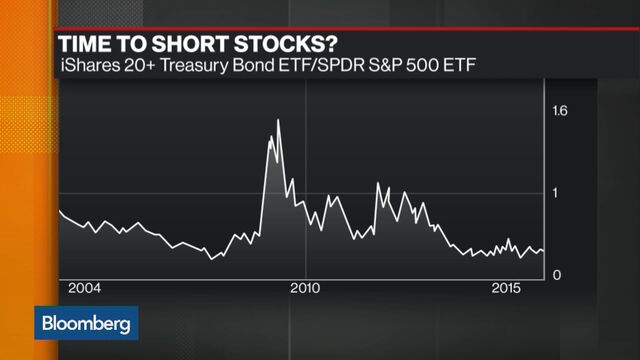 Treasuries are on track to halt a two-month slide, even after the Federal Reserve raised interest rates for the first time in nearly a decade.
U.S. government securities are eking out a gain for the month as investors seek safety from declining commodities and high-yield bonds. Long-term yields have dropped since the Fed increased its benchmark rate last week from near zero, ending months of speculation over when it would move.
"The market seems to not really accept the Fed's overall view of the strength of the U.S. economy," said Christopher Sullivan, who oversees $2.3 billion as chief investment officer at United Nations Federal Credit Union in New York. "It's very difficult for us to think interest rates along the curve will move much higher at all" from current levels, he added.
Tame inflation has kept longer-dated Treasury yields in check this year even as a looming Fed liftoff pushed short-term yields higher. The gap between yields on two-year and 30-year debt was near the narrowest since April as Brent crude slipped to an 11-year low on signs the global glut will persist.
The benchmark U.S. 10-year note yield fell one basis point, or 0.01 percentage point, to 2.19 percent as of 5 p.m. in New York, according to Bloomberg Bond Trader data. The price of the 2.25 percent security due in November 2025 rose 3/32, or 94 cents per $1,000 face amount, to 100 1/2.
Gradual Pace
The futures market is pricing in a slower pace of interest-rate increases than the Fed's own projections, known as the "dots," according to Bloomberg data. Fed funds futures prices indicate traders expect two more rate increases by the end of next year, while the median projection in the Fed's so-called dot plot shows officials expect rates will rise four more times in 2016.
Federal Reserve Bank of Atlanta President Dennis Lockhart said Monday that the central bank's commitment to raise rates gradually leaves the possibility open for four interest-rate increases by the end of 2016, while emphasizing that officials remain data-dependent.
Traders' bets on a slow Fed pace have supported a 0.2 percent return from Treasuries in December, after the securities were down as much as 0.5 percent during the first week of the month, based on Bloomberg world bond indexes. They have gained 1.3 percent in 2015.

High-yield bonds have fallen 3.4 percent this month. The Fed on Dec. 16 raised its benchmark by a quarter percentage point, its first increase since 2006.
"It was well flagged and therefore the market responded quite moderately," said Elwin de Groot, a senior market economist at Rabobank International in Utrecht, Netherlands, referring to the Fed's rate increase. "The overall data flow from various parts of the world, including the U.S., hasn't been extremely good. If the economy doesn't pick up in the next few months, Treasury yields, and bond yields more globally, could fall further."
Slow Inflation
Treasuries are also benefiting from slow inflation, said Hideaki Kuriki, a bond investor in Tokyo at Sumitomo Mitsui Trust Asset Management, which oversees $55 billion. Ten-year yields will probably stay below 2.50 percent as a result, he said.
The difference between yields on 10-year notes and similar-maturity Treasury Inflation Protected Securities, which measures expectations for consumer prices, is poised to shrink for a third year, the longest run of declines since TIPS were introduced in 1997. The so-called break-even rate was 1.48 percentage points. The Fed targets a 2 percent inflation rate using a separate gauge.
"There's still the risk of deflation," Kuriki said.
Before it's here, it's on the Bloomberg Terminal.
LEARN MORE