Wine
The 50 Best Wines Under $50
Whether you need red, white, or sparkling, critic Elin McCoy has a bottle for you on this list of the best reasonably priced wines she tasted this year
By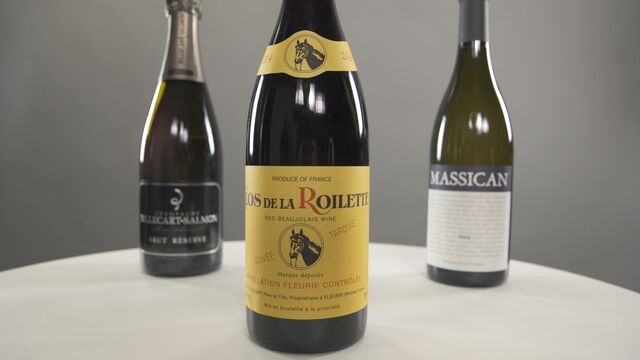 I'm always asked if I drink inexpensive wines. Of course, I do–if the wines are really good. Happily, I can report that it's easier than ever to buy great stuff without spending a fortune. From my tastings this year, I've picked 50 wines that cost less than $50 a bottle and also deliver plenty of value for the price.
Tricks for finding the biggest bang for the buck? Look in low-buzz regions that aren't luxury brands themselves, such as Beaujolais instead of Burgundy. Try unusual grape varieties, like assyrtiko and mencia. Above all, shop around. (That's what the Internet is for.)
Fun Fizz
For top inexpensive bubbly, look outside Champagne.

 2012 Raventos i Blanc L'Hereu Brut ($22)
This savory, sophisticated blend of native Spanish grapes from a super producer is my go-to Spanish bubbly.
Roederer Estate Brut ($24)
Reliably excellent, this crisp, sleek, citrus-y California brut comes from Mendocino's Anderson Valley.
Domaine Andre & Mireille Tissot Cremant du Jura Extra Brut Rosé ($27)  
A fresh-berry-tasting, stylish pink cuvée, this fizz is made in the now-trendy Jura from Poulsard and Trousseau grapes, with a dash of Pinot noir.
When Only Champagne Will Do
 Non-vintage blends are the most affordable Champagnes, especially those from small grower-producers. 

Laherte Freres Brut Ultradition ($40)
Round, creamy and floral, this pretty wine has deep, generous flavors and a high proportion of Pinot Meunier.
Chartogne-Taillet Cuvée Sainte Anne ($42)
Passionate young winemaker Alexandre Chartogne uses Pinot and Chardonnay for this fruit-and-floral, silky-textured wine.
Billecart-Salmon Brut Reserve ($45)
Many grande marque entry-level blends are boring and expensive. This one is harmonious, elegant, and reasonable.
Pierre Gimonnet et Fils Brut Premier Cru Sélection Belles Années ($45)
This bright, 100-percent Chardonnay blend of four top vintages is salty and floral, complex for the price.
Bereche et Fils Brut Reserve ($45)
Rising star Raphael Bereche has a cult following for his rich, succulent bubblies; this one includes Pinot Meunier in the Pinot/Chardonnay blend.
Bollinger Special Cuvée ($50)
Layered and lemony, this isn't the James Bond cuvée, but it has surprising depth and character for a grande marque basic blend.
Rosé Is a Year-Round Thing
These dry, full-bodied examples go with just about everything.

2014 Chêne Bleu Rosé ($34)
Bright pink and intensely perfumed, it's a classy, berry-inflected Grenache-based blend from the Rhône Valley.
2013 Domaine Comte Abbatucci Faustine Vieilles Vignes ($34)
This vibrant, peppery, juicy rosé is made from Sciacarello, a grape found only in Corsica.
2014 Domaine du Gros 'Noré Bandol Rosé ($35)
Savory with the taste of Mediterranean herbs, this south-of-France rosé is made from Mourvèdre.
Bright Whites
From zingy aperitifs to savory dinner wines.

 2013 Telmo Rodriguez Gaba do Xil Godello ($15)
Light and tangy, this no-oak white is made from native variety Godello by a superstar Spanish winemaker.
2013 Jean-Paul Brun Domaine des Terres Dorees Beaujolais Blanc ($16)
Full of fruit and finesse, it's as delicious as many Chardonnays that are twice the price.
2013 A.A. Badenhorst Secateurs Chenin Blanc ($16)
Suave yet racy, this white tastes of autumn fruit and shows why wines from old Chenin vines in South Africa's Swartland region are getting buzz. 
2014 Bodega Garzón Albariño ($18)
This textured white from Uruguay's most ambitious winery has surprisingly powerful, yet refreshing flavors.
2014 Domaine de la Pepiere Muscadet Sevre-et-Maine Sur Lie Clos des Briords ($18)
Salty, minerally, and crisp, this super-value from an underrated part of the Loire is perfect with oysters and shellfish.
2014 Clos Roche Blanche Touraine Sauvignon Blanc No 2. ($22)
Sadly, this is the last vintage of this delicious white, with notes of citrus, pear, and stony earth.   
2014 Domaine Sigalas Assyrtiko ($25)
This intense white from the Greek island of Santorini has a salty purity and tongue-sucking minerality.
2014 Massican Annia White ($28)
Inspired by Italian whites, Napa winemaker Dan Petroski broke new ground in the valley with his crisp, almond-y mix of Tocai Friulano, Chardonnay, and Ribolla Gialla.
2013 Dog Point Vineyard Section 94 Sauvignon Blanc ($28)
Bright, sophisticated, and smoky, this is just what you want from a New Zealand white.
2012 Domaine Isabelle et Denis Pommier Côte de Lechet Chablis ($30)
Though prices are climbing in Chablis, bargains remain, such as this hard-to-find, edgy, minerally premier cru example.
2014 Huet Vouvray Le Mont Sec ($34)
From one of the finest vineyards and best producers in Vouvray, this Chenin blanc is all stones, honeyed pears, and citrus and should sell for much more.
2012 Au Bon Climat Nuits-Blanches au Bouge Chardonnay ($35)
Jim Clendenen has been making serious Burgundy-style wines in Santa Barbara for 30-plus years; this white is all rich fruit and white flowers.
2013 Chanin Wine Company Los Alamos Chardonnay ($35)
Young Turk Gavin Chanin helped pioneer a new restrained style of Chardonnay. This one is creamy textured and citrus-y.
2014 Grosset Polish Hill Riesling ($49)
One of Australia's great collectible wines, it's powerful and slate-y, with complex lemon and floral nuances, and it ages brilliantly. 
2013 St. Aubin La Princée Domaine Hubert Lamy  ($50)
Wonderfully balanced, this entry-level white Burgundy from a dynamic domaine in a less-known appellation has a restrained mineral style and punches way above its weight.  
Brilliant Reds
From luscious drink-me blends to serious big-deal bottles.

Telmo Rodriguez Gaba do Xil Mencia ($18)
This bright, lively red with floral aromas reminds me of Cabernet Franc from the Loire Valley. (All the wines made by this talented Spanish winemaker offer value.)
2013 Ben Haines B Minor Shiraz Marsanne ($22)
Elegant but not serious, this Australian red is sheer deliciousness —juicy and silky.
2014 Bedrock Old Vines Zinfandel ($25)
Intense and powerful, this red—filled with the savor of dark fruit and tobacco—is made by a hot, young Sonoma winemaker with a mission to save historic vineyards.
2013 G.D. Vajra Dolcetto d'Alba Coste e Fossati ($26)
Every wine the Vajra family makes in Piedmont is special. This serious version of Dolcetto shows notes of lavender, dark plums, and licorice. 
2014 Clos de la Roilette Fleurie Cuvée Tardive (Alain Coudert) ($27)
The underrated Beaujolais region produces delicious age-worthy reds from the Gamay grape; this one, from sub-region Fleurie, has depth and richness, as well as bright fruit.
2014 Julien Sunier Regnié ($28)
From one of Beaujolais's most exciting new winemakers, this "cru" bottling has lush fruit with floral and smoky overtones. It's like a bouncy mash of crushed berries.
2013 Graci Etna Rosso ($28)
Mt. Etna is the most exciting region in Italy right now because of such wines as this taut, fresh red with distinctive earthy elegance.
2012 Eyrie Vineyards Pinot noir ($35)
Spicy cherry flavors and an excellent balance between brightness and richness mark this silky Pinot from an Oregon pioneer estate.
2013 Domaine Alain Graillot Crozes-Hermitage ($35)
One of the most sought-after wines from the Northern Rhone, this peppery Syrah has a wonderful, leathery smokiness.
Domaine Jean & Gilles Lafouge, Auxey-Duresses ($35)
Burgundy's "outer boroughs" still offer good buys. This premier cru Pinot has stunning perfumed aromas, bright cherry fruit, and a subtle earthiness.
2011 Dominio do Bibei Lalama Ribeira Sacra ($36)
Fresh and full of lively fruit and mountain herbs, this Mencia-based red is from a cool, harsh mountain region in Spain's Galicia that's undergoing revival.
2011 Mount Eden Vineyards Domaine Eden Cabernet Sauvignon ($36)
This undiscovered gem with complex flavors of plums and herbs is from a historic estate in the Santa Cruz mountains.
2012 Enfield Wine Haynes Vineyard Syrah ($45)
On my winemakers-to-watch list, Napa's John Lockwood made this pure, peppery Syrah from a vineyard in one of Napa's newest areas, Coombsville, Calif.
2010 Caparzo Brunello di Montalcino ($45)
This value, from a superb, much-hyped vintage, is soft and accessible, with silky tannins and plummy flavors.
2010 Château Cantemerle ($45)
This classic, concentrated, fifth growth Bordeaux red from the Haut-Medoc appellation shines in this superb vintage.
2012 Croix de Beaucaillou ($48)
Second-label wines of famous Bordeaux chateaux offer serious value, such as this supple red from Château Ducru-Beaucaillou that's drinkable now but has enough depth to age.
Wines for Geeks
Fascinating niche bottles.

2013 Pheasant's Tears Rkatsiteli ($20)
Fermented on grape skins like a red, this delicious apricot-y white from the Republic of Georgia is an "orange" wine aged in clay amphoras.
Valdespino Fino Inocente Sherry ($22)
The recent sherry fad revived interest in this unsung fortified wine. This zingy, briny, single-vineyard Fino, with notes of herbs and olives, is a good entry point.
2004 Lopez de Heredia Viña Bosconia Reserva ($37)
This red from Rioja's most traditional producer has aromas of rose and dried cherries and pure, clear flavors.
2012 Paolo Bea Bianco Santa Chiara ($40)
This unusual, amber-colored wine from a natural-wine movement pioneer is more tannic than a usual white because the pressed juice sits on the skins.
Sweeties
Most sweet wines are expensive, but a half-bottle goes a long way.

Yalumba Museum Muscat (1/2 bottle $18)
From Australia, this sweet "stickie" (dessert wine) is like a liquid fruitcake, with flavors of brown sugar, toffee, and orange peel.
2012 Diznoko Tokaji Furmint Late Harvest (500ml, $23)
A lighter, fresher version of the traditional super sweet Tokaji aszu wines, it's like a honeyed lemon cake.
2006 Raymond-Lafon, Sauternes ($33)
An under-the-radar producer made this spicy, luscious, sweet wine with stunning marmalade and lemon curd flavors.
Before it's here, it's on the Bloomberg Terminal.
LEARN MORE