Cohen Still Dogged by Regulators as SEC Case to Proceed
by
Agency's case was on hold pending outcome of Steinberg matter

SAC Capital founder accused of failing to supervise trader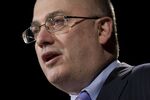 Steven Cohen isn't out of the woods yet.
The U.S. Securities and Exchange Commission said it's proceeding with its administrative case against the billionaire hedge-fund founder, claiming he failed to supervise Mathew Martoma, the ex-SAC Capital Advisors trader who was convicted of insider trading.
The Wall Street regulator dropped its case against Michael Steinberg, another former SAC Capital money manager, who was found guilty in 2013 of an insider scheme involving technology stocks and sentenced to 3 1/2 years in prison. The U.S. abandoned its criminal case against Steinberg in October in light of a 2014 appeals court ruling that narrowed the scope of insider-trading law.
Even though Steinberg walked away, the SEC will still use evidence gathered in his case to try to prove that Cohen didn't properly supervise Martoma. The SEC's decision to scratch its case against Steinberg signals that the regulator recognizes it faces the same hurdles in pursuing civil insider-trading cases as criminal prosecutors do. 
When the SEC sued Cohen in July 2013, enforcement officials sought a lifetime ban, people familiar said at the time. That suspension seems less likely after a dozen insider trading convictions have been thrown out. Since the SEC sued Cohen, he returned money back to clients and turned SAC into a family office called Point72 Asset Management. After the change in insider trading law, executives at Point72 are considering seeking a three-year limit on any SEC ban on managing outside capital, two people familiar with the matter said at the time.
To prove insider trading, prosecutors must show a defendant knew that the source of their tips came from someone who had a duty to keep the information secret and that the leaker got a benefit from passing it on, the U.S. Court of Appeals in New York said in December 2014.
Mark Herr, a spokesman for Point72, declined to comment on the SEC's case.
SAC pleaded guilty in 2013 and paid a record $1.8 billion fine to resolve U.S. claims over insider trading. Cohen wasn't charged with wrongdoing.
A hearing in the SEC matter is set to begin April 11 in New York, according to a statement issued Monday by the agency.
The SEC case is In the Matter of Steven A. Cohen, Administrative proceeding 3-15382.
Before it's here, it's on the Bloomberg Terminal.
LEARN MORE