Spanish Parties' Policy Positions as Search for Alliance Begins
by
People's Party offers tax cuts, targets lower unemployment

Socialists, Podemos want more time to lower budget deficit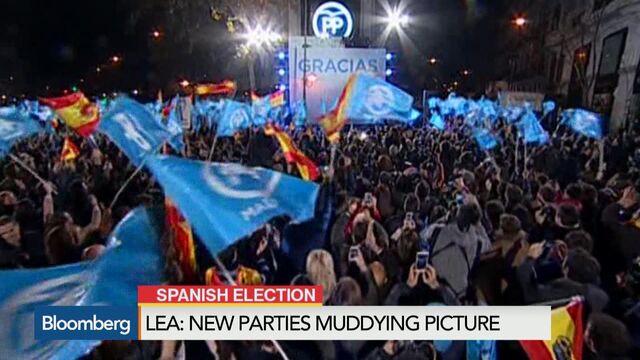 Spain's inconclusive Sunday election means parties will have to thrash out some form of agreement before a new government can be formed. With talks set to begin, here's a list of some of their main policy pledges.
The People's Party aims to:
* Have 20 million Spaniards at work by 2020 from 18 million now
* Cut the top income-tax rate to 43 percent from 45 percent now
* Reduce the lowest rate of tax to 17 percent from about 19 percent
* Extend subsidies for large families
* Cut deficit below 3 percent by 2016
The Socialists want to:
* Overturn the PP's labor market reform, restore rights for workers
* Enact a constitutional reform to respond to demands of regions such as Catalonia
* More time to slash deficit, cutting it to 1 percent of GDP by 2020
Podemos seeks to:
* Renegotiate deficit reduction so that it's pegged to growth
* Restructure debt linked to state aid for banking industry
* Increase tax bands for earnings over 60,000 euros
* Levy 55% tax rate for those earning over 300,000 euros
* Introduce a special 25 percent sales-tax rate on "luxury products," restore wealth tax
* Create state bank from nationalized lenders Bankia, BMN
Before it's here, it's on the Bloomberg Terminal.
LEARN MORE