Spain Socialists Rule Out Coalition With Rajoy's PP, Rocha Says
Esteban Duarte, Charles Penty and Tom Mackenzie
Socialists are market-friendly, will act responsibly, he says

Party is open to talks with parties with similar objectives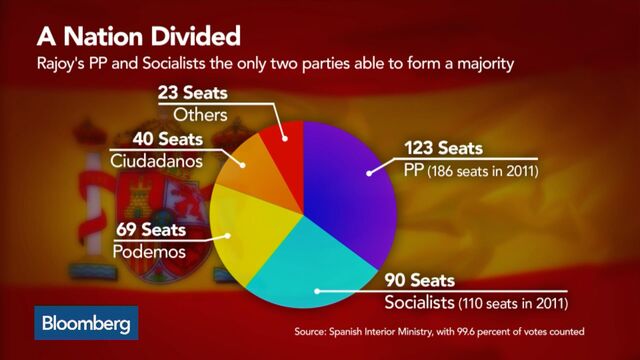 Spain's Socialists reject an alliance with Prime Minister Mariano Rajoy, according to the party's economic-policy head, who said they will instead pursue a government with like-minded groups that is market friendly.
"We have already said that we rule out any grand coalition with the People's Party" of Rajoy, Manuel de la Rocha said in an interview at the Socialists' headquarters in Madrid. "Other than that, we have said all throughout the campaign that we will discuss with different parties that have objectives similar to us."
Elections in Spain Sunday produced no clear winner as voters deserted the two main parties in favor of new political groups, leaving both Rajoy's PP and the Socialists short of a majority. Spain has entered a "new era" in which large majorities are a thing of the past, de la Rocha said.
He declined to be drawn on the Socialists' options for negotiating with possible coalition partners, saying the party's executive committee would meet Monday to study the results. The vote left the PP as the biggest party in the 350-member parliament with 123 seats compared with 90 for the Socialists and 69 for the anti-austerity Podemos formation. Socialist leader Pedro Sanchez said that Rajoy's PP should have first shot at forming a government.
Investors would have nothing to fear from a Socialist-led coalition that would be serious and responsible, de la Rocha said. "We welcome investors, we are business friendly party," he said, adding that there was no question about its support for debt repayment. "I want to give a strong message to the markets that whatever happens, the Socialist party will have a responsible and sensible response."
Before it's here, it's on the Bloomberg Terminal.
LEARN MORE