Spain's Socialists Will Block Rajoy's First Bid for New Term
by and
Parties set out positions as post-vote jockeying begins

Stocks and bonds drop on inconclusive election outcome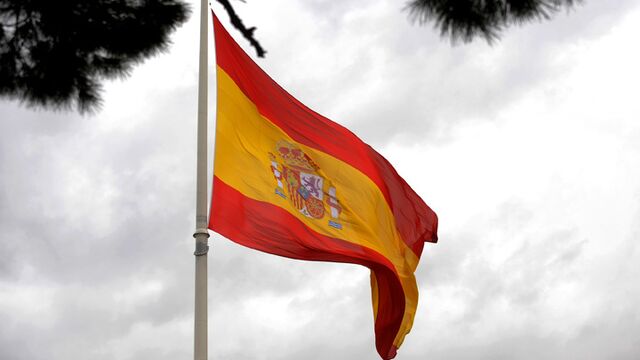 Spain's Socialists said they'll vote against Prime Minister Mariano Rajoy if he seeks parliamentary approval for a second term, signaling drawn out negotiations over the shape of the next government.
With anti-austerity party Podemos making clear they'll vote against Rajoy's People's Party in all circumstances, the Socialists' opposition means it's almost impossible for the prime minister to renew his mandate at the first attempt. The Socialists' deputy leader, Cesar Luena, declined to comment on what his party might do in a second round of voting, when an abstention from the group's 90 lawmakers could be enough for Rajoy to get through.
The Socialists and Podemos set out their positions in Madrid Monday after meetings of their respective party leaderships to chart a way forward following an inconclusive election that saw Rajoy's PP lose its majority. With Sunday's vote resulting in four main parties in parliament without any clear government constellation, jockeying has begun as the parties seek to adapt to the new political landscape.

"Neither actively nor passively will Podemos allow the People's Party to govern," Podemos leader Pablo Iglesias told reporters. He said his party will take time to analyze the situation calmly before contacting the other political leaders. Luena said his party "will vote 'no' to the PP," though referring only to the first round, when Rajoy will need an absolute majority in the 350-seat parliament.
Spanish bonds and stocks sank Monday on the prospect of instability ahead. Under Spanish law, a new parliament must be called by Jan. 13, after which lawmakers have two months to elect a government. If they fail, the acting prime minister has to call a new election.
"The People's Party will propose a dialogue with generosity and farsightedness," Rajoy said at a news conference after a meeting of his party's executive committee. His overtures will be directed to "constitutional and pro-European" forces, he said.
Rajoy, who has 123 lawmakers, only needs a plurality of votes in the second round of voting to be confirmed as prime minister.
"The field is really open," said Pablo Simon, a political science professor at Carlos III University in Madrid. "We are heading for very long negotiations since the two blocs are virtually tied."
Spain's benchmark equity index, the Ibex 35, tumbled 2.7 percent at the open in Madrid, and was down 2.8 percent as of 1:59 p.m. local time. The yield on the country's 10-year government bonds was up 9 basis points after earlier jumping to 1.9 percent, the highest in five weeks.
Before it's here, it's on the Bloomberg Terminal.
LEARN MORE