Spain's Election Is Bad News for Europe's Budget-Deficit Police
by and
Socialists, Ciudadanos, Podemos all called for easier targets

EU projects Rajoy's PP will miss goals this year and next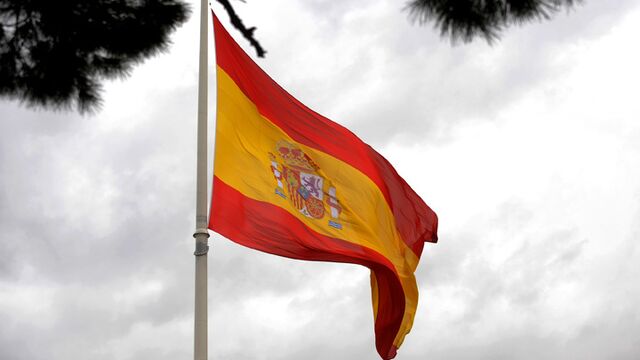 Amid the uncertainty over Spain's political future after Sunday's inconclusive election result, one thing is clear: the country's budget-deficit targets are at risk.
Three of the four biggest parties in the new parliament promised voters they'd persuade the European Commission to ease Spain's budget limits during the campaign. The fourth, Prime Minister Mariano Rajoy's People's Party, insists it will meet the goals, though it's missed them every year since taking office in 2011 and the commission says its 2016 budget will overshoot again by more than 8 billion euros ($8.7 billion).
Despite Rajoy's budget struggles, Spain has been cheered by European leaders including Chancellor Angela Merkel for taking the economic medicine prescribed by officials in Brussels as it tried to dig itself out of a six-year slump. Now Spain, the euro area's fourth biggest economy, could tip the bloc's focus away from fiscal consolidation with France and Italy also chafing at the commission's restrictions.
"There is agreement -- whether official or unspoken -- on a slower path of fiscal adjustment," said Ruben Segura-Cayuela, a London-based economist at Bank of America Merrill Lynch. "This is not 2012 anymore, and the EU is more flexible as soon as you show reforms, as Italy and France, at least to some extent, are doing."
The yield on Spanish 10-year bonds was little changed at 1.78 percent at 12:03 p.m. Madrid time Tuesday, after touching 1.88 percent on Monday, the highest in five weeks. Spain's IBEX 35 Index rose 0.4 percent after a 3.6 percent decline on Monday.
A Socialist-led government may seek to review Spain's budget-deficit targets once the accounts for 2015 have been completed but will work hand-in-hand with the European Commission in that process, the party's economic adviser Jordi Sevilla said in an interview in October. Pro-market Ciudadanos proposes offering the Commission more reforms, such as abolishing a provincial layer of government, in exchange for a slower pace of consolidation. Anti-austerity Podemos wants to renegotiate Spain's spending plans for the next four years.

"Domestically, the main source of uncertainty is associated with the direction of economic policy, given the influence that the reform agenda and budget policy in particular have on confidence and spending decisions," the Bank of Spain said in its monthly bulletin Tuesday.
Rajoy attempted to sidestep the Commission's budget oversight timetable by submitting a draft budget plan ahead of the deadline, only to have European Union officials ask for revisions by January. Last month, the Brussels-based Commission said Rajoy's spending plans will lead to a deficit of 3.6 percent of output next year compared with a target of 2.8 percent. Spain will miss this year's goal of 4.2 percent too, the Commission said.
"The budget that has been approved will meet the target for next year," Economy Minister Luis de Guindos said in an interview last week. "We won't need any additional measures."
Budget Tactics
Neighboring Portugal took the opposite tack, opting to withhold its budget plan until after its elections in October. The new government plans to submit a plan next month for review in February.
France, meanwhile, has continually postponed cutting its overall debt levels and bringing its annual deficit in line with the EU limits. President Francois Hollande won another two-year extension in February that allowed his nation to avoid unprecedented sanctions for breaking the euro area's budget rules.
But the near-term focus is Spain, as European officials try to show that the euro area's budget commitments can transcend changes in national leadership. EU Economic Affairs Commissioner Pierre Moscovici said Dec. 9 that Portugal's new government has pledged "to respect their own commitments" on fiscal matters and will submit budget plans "as soon as possible" in January.
"For Spain, now we'll see what the voters will decide," Moscovici told reporters in Brussels. "But obviously we'll have to discuss the Spanish budget with the new government after the election."
Spain entered uncharted political territory after Rajoy's PP lost its majority and a third of its lawmakers Sunday's election. Spanish voters rewarded newcomers from anti-austerity Podemos and the liberal Ciudadanos party, who between them took 109 seats in the 350-member parliament, leaving no clear governing majority.
"I don't know what's going to happen to my friend Mariano but I know that those who have been in the front line of being the faithful allies of the politics of rigor without growth have lost their jobs," Italian Prime Minister Matteo Renzi said in an interview with the Financial Times published Tuesday. "It happened in Athens, it happened in Lisbon. Let's see what happens in Madrid."
Before it's here, it's on the Bloomberg Terminal.
LEARN MORE