Santander, BBVA Lead Declines in Spain on Political Instability
by and
All IBEX 35 companies fall, with CaixaBank tumbling 7.4%

Spanish stocks among biggest 2015 losers in western Europe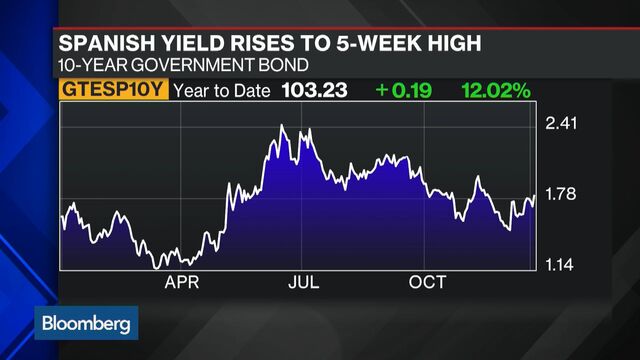 Spanish stocks dropped after elections on Sunday left no clear winner, signaling weeks of political instability ahead.
The IBEX 35 Index fell 3.6 percent, the most in four months, with all its shares down. As speculation grew that lenders and utilities would be among the most hurt if a new government modifies policies, Banco Santander SA and Banco Bilbao Vizcaya Argentaria SA slid more than 4.7 percent, and CaixaBank SA plunged the most in two years. Iberdrola SA, the nation's largest utility owner, lost 2.3 percent, while state-owned airport operator Aena SA sank 7 percent, the most since its shares started trading in February.
"The market was not ready for this result, it's one of the worst scenarios that we could imagine," Nuria Alvarez, a bank analyst at Renta 4 Banco SA in Madrid, said by phone. "The uncertainty is especially bad for the banking and the utility sectors since there can be regulatory changes that could affect them."
The ruling People's Party failed to gain enough seats in parliament to form a coalition that would be big enough to govern, potentially leading to more stock volatility ahead. If the PP doesn't manage to get an absolute majority -- a scenario that's likely as there is no obvious alliance that would add up to the 176 seats needed -- and if no government gets approved, new elections may eventually be held.
Leaders of the socialist party and anti-austerity party Podemos said today they'll vote against a government lead by the PP's Mariano Rajoy.
Spanish shares have suffered from political uncertainty this year. They're among the biggest decliners in western Europe, with the IBEX 35 down 8.9 percent. Yet the losses have failed to spread: the regional Stoxx Europe 600 Index is up 4.3 percent in 2015.
"The risk that a new Spanish government could adopt policies that would really jeopardize Spain's place in the euro or trigger a new euro crisis still looks small," Holger Schmieding, chief economist at Berenberg Bank in London, wrote in a note today.
While Spain is one of the fastest growing European economies, forecast to expand 3.1 percent this year and 2.7 percent next, a new government that backtracks on market-friendly policies may kick the country off track, according to Barclays Plc.
"The policies of the next government could determine whether Spain's growth prospects move closer to Ireland's or stay closer to those of its southern European neighbors," Barclays economists Antonio Garcia Pascual and Apolline Menut wrote in a note today.
Before it's here, it's on the Bloomberg Terminal.
LEARN MORE