Ruble Extends Decline as Brent Oil Falls to Eleven-Year Low
By
Drop in commodities may stall move out of recession: JPM

Currency too strong compared with oil price, Rosbank says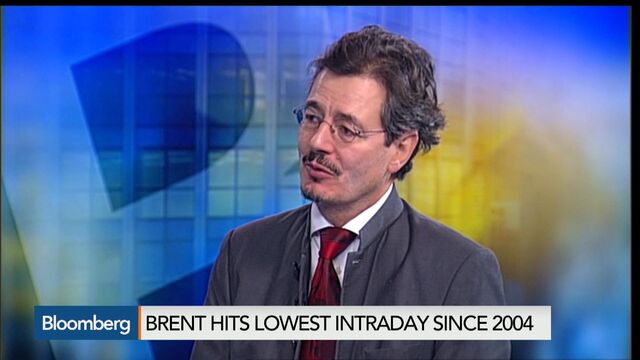 The ruble headed for a record low close as Brent crude extended its slide while Societe Generale SA said the currency is too strong relative to the price of oil.
The ruble fell 0.3 percent to 71.173 as of 6:10 p.m. in Moscow, pushing declines into a fifth consecutive week. Brent crude dropped 1.8 percent to $36.20 per barrel.
The ruble, which has weakened 6.7 percent in December, the second-biggest drop among emerging markets, may have further to fall because the currency hasn't kept pace with the 19 percent slide in its main export earner, pressuring the state budget which gets almost 50 percent of its revenue from sales of oil and natural gas. Brent in rubles dropped on Monday to 2,570 per barrel, the lowest since 2010.
"Oil is the queen of the ball," said Yury Tulinov, the head of research at Societe Generale's Rosbank PJSC unit in Moscow. The currency, which closed at a record low of 71.183 on Thursday, should trade at an average 75 against the dollar if the 12-month average price of oil is $44 a barrel, he said.
The price Russia gets for oil is straining budget revenue as the government struggles to contain its biggest budget deficit in five years. JPMorgan Chase & Co. cut its 2016 outlook on Friday to anticipate a 0.2 percent contraction, compared with a previous forecast for growth of 0.5 percent. Crude traded at the lowest level since 2004 on Monday.
Government five-year bonds were unchanged to yield 10.16 percent. The Micex Index of shares declined 0.4 percent.
Citigroup Inc.'s Ivan Tchakarov sees the ruble at 72 against the dollar in six to 12 months, with a positive balance of payments supporting the currency. Russia's 11-month current-account surplus widened 12 percent from a year earlier to $60.8 billion, the central bank said on Dec. 9. Net capital outflow for the period slowed to $53 billion from $118.7 billion a year earlier.
"So far in the year, the current-account surplus more than covers net capital outflows, suggesting that more dollars have come into Russia than have flown out," Tchakarov said by e-mail. "That's why, in my view, the currency has been showing some remarkable resilience, at least for now."