Rolex Buyers Needn't Worry as Swiss Put Limit on Anonymous Cash
by
As of Jan. 1, cash payments of CHF100,000 need due diligence

Cash in circulation per inhabitant is highest in Switzerland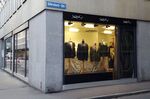 Reto Roffler, a tailor in the heart of Zurich's banking district, doesn't accept card payments. Clients of his store, where a suit can go for 6,000 francs ($6,075), must either use bank transfers or cash.
"I recently had an American CEO staying at a nearby hotel, who came by and liked a bag, and I told him we don't take cards," said Roffler, whose business is just a short walk from the headquarters of UBS Group AG and Credit Suisse Group AG. "Twenty minutes later he was back to pay with cash."
They may have one of the world's wealthiest and most technologically advanced societies, but when it comes to money, the Swiss are partial to cold, hard cash. In dollar terms, Switzerland has the greatest value of banknotes and coins in circulation per person, according to select Bank for International Settlements figures.
Those data, covering 2014, show Swiss cash circulating is about five times that of Canada, and twice that of the euro area. At the same time, the rate of card use is among the lowest in western Europe -- only a third of Sweden's level and less than half that of the U.K.
Switzerland's government is about to mildly challenge the cash culture with a revised money-laundering law in January that requires due diligence by retailers on all purchases that exceed 100,000 francs -- including verifying the buyer's identity. The rule is a move to comply with international standards to prevent the country from being blacklisted, a potential blow to its much-vaunted banking sector.
The limit is still high enough to allow a Jaguar F-Type or a Rolex Oyster Perpetual Day-Date 40 watch to be bought with a wad of bills, prompting critics to question its usefulness. Among them is Charles Goodhart, an authority on money supply who already branded Switzerland's central bank as "shameless" this year for issuing 1,000 franc bills -- on the grounds that they make life too easy for criminals. The 100,000-franc level is way too much, he says.
"I can only describe that as a joke," Goodhart, a former Bank of England policy maker, said by phone from London. "If they reduced it to 10,000, I'd begin to think maybe they're being serious."
'A Lot of Damage'
Other European countries have rules on cash payments too -- though in some cases they're much more stringent. In Greece, for example, cash payments of 1,500 euros or more are banned, while in Italy a revised limit of 3,000 euros takes effect in January. Swedish companies need to establish customer identity if an individual transaction -- or several deemed to be linked -- exceed 15,000 euros. Austria also requires jewelers and other vendors to fulfill certain due diligence requirements.
"The limit ought to be much lower," said Nikos Passas, a professor of criminal justice at Northeastern University in Boston. "You can do a lot of damage with much less, especially when it comes to terrorism financing."
Yet, according to the Swiss government, there can be legitimate reasons for large sums.
"For amounts below 100,000 francs there may well be viable reasons for cash payments, which you can't immediately conclude to be money laundering," Switzerland's State Secretariat for International Financial Matters said by e-mail.
'Trust in Cash'
The Swiss affinity for cash derives from an innate faith among citizens in the country's currency, according to Michael Hermann, a political scientist who heads Zurich-based research institute Sotomo.
Following the demise of banking secrecy for offshore accounts, opponents of the law say it represents yet another nail in the coffin of a culture that puts a premium on privacy, discretion and sound financial management.

"Cash is legal tender and I don't see why it should be limited," Pirmin Schwander, a member of the nationalist, fiscally conservative Swiss People's Party, the largest in Parliament, told broadcaster SRF in 2014. "It's about state snooping and about keeping tabs on citizens."
Schwander didn't respond to an interview request. Others in Parliament think the law doesn't go far enough.
"It's absurd," Green Party lawmaker Daniel Vischer told SRF last year. "Of course it's odd when someone pays such amounts in cash."
As for the tailor of Zurich, who in addition to his bespoke creations has cashmere scarves and leopard print slippers on offer, he's relatively unconcerned. Many of his clients are residents of Switzerland, where it's common to pay via bank transfer.
"It's not a problem," Roffler said. "But more generally, I think it's problematic that we have to be traceable."
Before it's here, it's on the Bloomberg Terminal.
LEARN MORE