Oil Profits From Hoarding at Sea to Stay Elusive, Barclays Says
by
Contango may last longer than in 2008-2009 as glut persists

Stronger demand, pricier freight are thwarting storage trade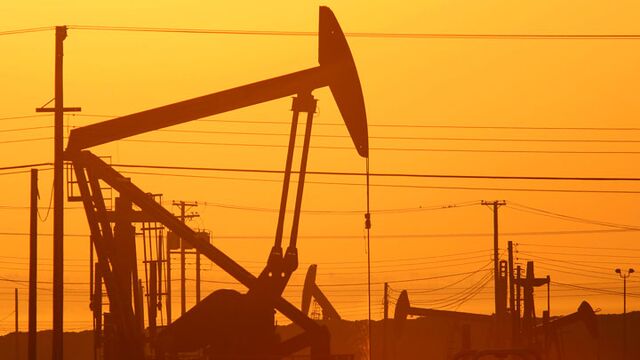 Profits from stockpiling crude at sea, a tactic used by oil traders in 2008 to weather the market rout, will probably remain elusive during the current slump, according to Barclays Plc.
Immediate supplies of benchmark Brent crude are trading at a discount to later-dated contracts, a market structure known as contango. While that spread -- which helps traders hoard crude for later sale -- may last longer than during the 2008-2009 recession, it's still generally not wide enough to cover the cost of hiring tankers, Barclays said. Oil demand is stronger than during the financial crisis and tanker rates more expensive, it said.
Oil contracts for prompt delivery have been cheaper than later supplies since July 2014 as the U.S. shale boom and OPEC's resolve to keep market share propelled global inventories to a record. Brent futures fell to an 11-year low of $36.05 a barrel on Monday. February futures are about $1.28 less than those for April.
"The contango in Brent could widen from current levels and persist longer than in 2008-2009," said Miswin Mahesh, an analyst at Barclays in London. "However, floating storage may not be utilized to the same extent as 2008-2009, when more than 100 million barrels of oil was stored in tankers."
The spread between the first and third month is only half the level seen in December 2008, Barclays said. Oil demand is stronger than during the collapse that year, easing the strain on storage capacity. Extra tanks have been built since then, with about 270 million barrels of storage added in China alone, which also helps prevent space becoming exhausted, it said.
In addition, increased freight costs are frustrating attempts to store barrels at sea. The expense of hiring a supertanker to haul cargo from the Persian Gulf to Asia is about 40 percent higher than in 2008 because stronger fuel consumption is supporting demand for ships, the bank estimates.
Before it's here, it's on the Bloomberg Terminal.
LEARN MORE