Oil Bears Exit Market Too Soon as Prices Slide to Another Low
by
Speculators cut short positions 8.4% in week to Dec. 15: CFTC

U.S. benchmark crude drops to the lowest since February 2009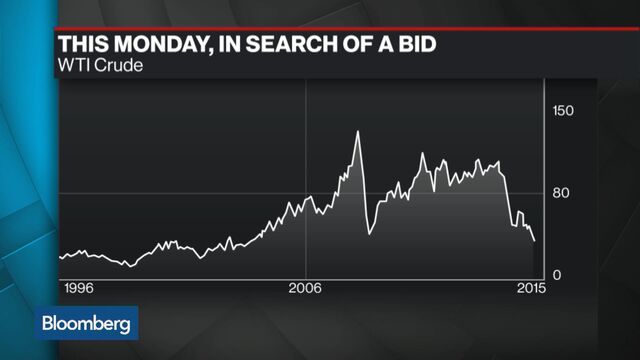 Speculators betting oil would rebound from a six-year low got it wrong as the market rout resumed.
Oil rose on Dec. 15 on reports that the U.S. was about to lift the 40-year ban on crude exports and on forecasts that government data would show a decline in America's crude inventories. Prices dropped the next day on the realization that there was little overseas demand for the crude and after U.S. supplies climbed to the highest level for this time of year since 1930.

"They got it wrong," said Michael Lynch, president of Strategic Energy & Economic Research in Winchester, Massachusetts. "People were expecting a bullish inventory report and were surprised. The report suggests the fundamentals are even worse than we thought."
Money managers' short position in West Texas Intermediate crude fell 8.4 percent from an all-time high in the week ended Dec. 15, data from the U.S. Commodity Futures Trading Commission show.  Net-long positions rose 19 percent.
WTI fell 0.4 percent to $37.35 a barrel in the report week on the New York Mercantile Exchange. The contract for January delivery, which expires Monday, dropped 52 cents to $34.21 a barrel at 11:01 a.m. The more active February contract was slipped 39 cents at $35.67.
President Barack Obama signed a $1.1 trillion spending measure on Dec. 18 that averted a U.S. government shutdown and removed the crude-oil export ban. The end of trade limits is a "big win," said House Speaker Paul Ryan, and it's a top priority for Republicans.
'Momentous Shift'
"This is a momentous shift in policy but there's little practical impact," said John Kilduff, a partner at Again Capital LLC, a New York-based hedge fund that focuses on energy. "Prices had fallen so much that even an esoteric policy change could have propped up prices."
Futures have been under pressure on signs the global supply surplus will be prolonged. The Organization of Petroleum Exporting Countries abandoned output limits at a Dec. 4 meeting, while the U.S. Federal Reserve increased interest rates last week, boosting the dollar and reducing the appeal of commodities traded in the U.S. currency. Oil-storage tanks could reach their capacity, pushing prices down to levels necessary to force an immediate halt to some production, Goldman Sachs Group Inc. said in a Dec. 17 report.
Speculators' short positions in WTI fell by 15,224 contracts to 166,625 futures and options, CFTC data show. Shorts in the prior week were the most in records dating back to 2006. Longs increased by 56. Net-long positions rose by 15,280 to 95,754.
Short Covering
"This is all short covering," said Tim Evans, an energy analyst at Citi Futures Perspective in New York. "It's not a bet that prices will rise, it's a wager that prices might not continue lower."
Traders reduced their bullish stance in Brent crude during the period. Speculators reduced net-longs to 171,834 contracts, according to data from ICE Futures Europe.
In other markets, net bearish wagers on U.S. ultra low sulfur diesel increased 3.7 percent to 41,376 contracts. Diesel futures slid 8.9 percent in the period. Net bullish bets on Nymex gasoline climbed 42 percent to 23,688 contracts as futures rose 3.4 percent. 
Oil futures tumbled on Dec. 16 after the Energy Information Administration reported that U.S. crude supplies rose 4.8 million barrels to 490.7 million in the week ended Dec. 11. The gain left stockpiles more than 130 million barrels above the five-year seasonal average. A 1.5 million-barrel decline was projected in a Bloomberg survey before the release of the government data.
"Next week's CFTC report will look a lot different," said Michael Corcelli, chief investment officer of hedge fund Alexander Alternative Capital LLC in Miami. "The inventory data on Wednesday reinforced that we're going lower."
Before it's here, it's on the Bloomberg Terminal.
LEARN MORE