KaloBios Says Martin Shkreli Terminated as CEO
By
Fellow board member Tony Chase also resigned on Thursday

Shkreli held more than 50 percent of shares as of Nov. 24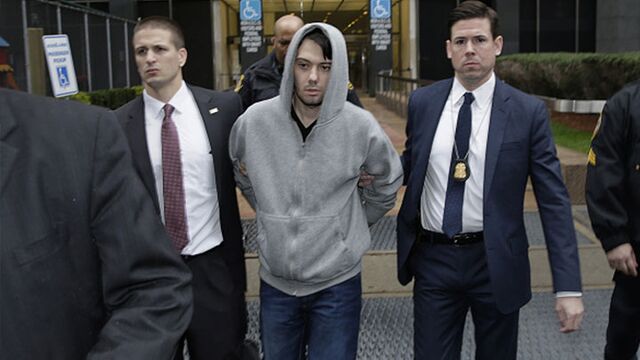 Martin Shkreli was fired as chief executive officer of KaloBios Pharmaceuticals Inc. following his arrest last week on charges of securities fraud.
Shkreli and Tony Chase also resigned from the board of directors, the drugmaker said Monday in a statement. The company didn't name Shkreli's successor.
KaloBios shares plummeted 53 percent Thursday after Shkreli, 32, was arrested in New York on charges related to one of his previous companies, Retrophin Inc. Shkreli denied wrongdoing. He's accused of repeatedly losing money for investors and lying to them about it, as well as illegally taking assets from one of his companies to pay off debtors in another.
KaloBios trading was halted the day of the arrest and hasn't resumed. Last weekend, the University of California at Davis and Moffitt Cancer Center in Florida said they had suspended a planned drug trial sponsored by KaloBios.
Last month, Shkreli bought a majority interest in South San Francisco, California-based KaloBios and named himself CEO. The company's stock was trading at less than $1 before he made the move, and it subsequently rose to as high as $39.50, giving the company a market value of more than $100 million. Chase joined KaloBios' board of directors when Shkreli took over the company along with a larger investor group including Marek Biestek and David Moradi. Shkreli held more than 50 percent of the company's shares as of Nov. 24, according to Bloomberg data.
Still Halted
KaloBios' stock was frozen after the Nasdaq requested additional information on Thursday, the exchange said in a statement the day of Shkreli's arrest. Trading will remain stopped until the drugmaker answers the request to Nasdaq's satisfaction, according to the statement. Nasdaq spokesman Will Briganti declined to comment on the halt.
Shkreli is best known for raising the price of a decades-old drug acquired by closely held Turing Pharmaceuticals AG to $750 a pill from $13.50. Though notorious for the price hike, his arrest was for an unrelated accusation. He resigned as CEO of Turing on Friday.