Mark Coville, BlackRock Executive Changed by Cancer, Dies at 58
Stephen Miller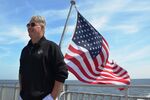 Mark P. Coville, a managing director in BlackRock Inc.'s trading and liquidity strategy group whose outlook on life and work changed after a cancer diagnosis 23 months ago, has died. He was 58.
He died Dec. 10 at his home in New Hope, Pennsylvania, his wife, Lynda Coville, said Monday in a telephone interview. The cause was acute myeloid leukemia.
Coville joined New York-based BlackRock -- the world's biggest money manager, with $4.5 trillion under management -- when the firm acquired Merrill Lynch & Co.'s investment unit in
2006. He spent 25 years at Manhattan-based Merrill, with a stint in London as head of securities lending.
At BlackRock, he returned to London to head international sales for the cash management group. Most recently, Coville worked in New York, responsible for senior client relationships, and served on the Americas executive and cash management leadership committees.
"Mark Coville was a valued friend and colleague," Tara McDonnell, a BlackRock spokeswoman, said in an e-mail. "His humor, intelligence and humanity will be dearly missed."
The events that would upend his life began in November
2013. He was exhausted from a cough "that came not from my lungs but deep down in my stomach," Coville said, according to a 2014 profile in Cancer Connection, a magazine published by Rutgers Cancer Institute of New Jersey, based in New Brunswick. "I had no energy and could hardly drive home from work."
Blood Tests
After seven doctor visits, a blood test on Jan. 13, 2014, confirmed he had leukemia.
"It was pretty shocking," Coville said of the news. Two days later, he entered Robert Wood Johnson University Hospital in New Brunswick for chemotherapy. His stay stretched to 45 days.
That April, he was back in the hospital for a bone marrow transplant. The donor was his sister, Brenda Coville.
Following the procedure, the executive returned to work a changed man.
"I am more emotional now and a different person after all this," Coville said, according to the article. Previously, he had defined people by their jobs. "I no longer believe that," he said. "There are other things in life more important."
He poured himself into painting and reading about U.S. history. His home in New Hope overlooks the Delaware River, not far from where General George Washington, during the U.S. revolution in 1776, led his troops in a Christmas crossing to attack Hessian soldiers in the Battle of Trenton.
Coville's ashes will be spread in the river, his wife said.
Early Years
Mark Peterson Coville was born Oct. 6, 1957, in Enid, Oklahoma. His father, David Coville, was stationed there as an officer in the U.S. Air Force. His mother was the former Jane Bradford. She traced her ancestry to William Bradford, who arrived in the New World aboard the Mayflower in 1620 and was governor of Plymouth Colony in what is today Massachusetts.
The family moved between various Air Force bases. Coville attended high school in O'Fallon, Illinois, where he played on the varsity baseball and football teams. He received his bachelor's degree in finance in 1979 from the University of Connecticut in Storrs. The university's business school named him to its hall of fame in 2013.
After college, Coville worked briefly for the New York-based Nasdaq stock market before joining what was then Merrill Lynch, Pierce, Fenner & Smith Inc. in 1982. He worked in London for the firm from 1995 to 1998, according to his wife. After returning to the U.S., Coville worked in the firm's asset management office in Princeton, New Jersey. The family lived in Hopewell, New Jersey, at the time.
In addition to the former Lynda Susan Coombs, whom he married in 1983, and his sister, survivors include the couple's children Candace and David.
Related ticker: BLK US (BlackRock Inc.)
Before it's here, it's on the Bloomberg Terminal.
LEARN MORE