Lender Versus Lender Rears Its Head Again in Canada's Oil Patch
by
Even after equity raise, Calfrac bondholders wary of new debt

Firm left the door open to giving new lenders better position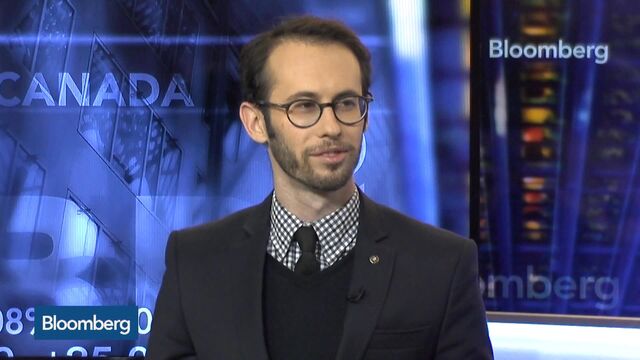 With crude prices plunging anew, the specter of lenders having to fight each other to get repaid is rearing its head again in Canada's oil patch.
As oil fell below $35 per barrel last week Calfrac Well Services Ltd., which provides rigs to pry crude from shale rock, announced that its banks and its largest shareholder had taken steps to help it avoid a technical default. Normally that would be good news for creditors. But the bond market barely reacted. That's because the company left open the possibility that it could raise new debt that would rank ahead of the notes and dilute their claim on the company's assets.
Similar tactics, already used by U.S. oil companies to raise capital in the wake of oil's first leg down at the beginning of the year, have triggered a pair of lawsuits from disgruntled lenders when Lightstream Resources Ltd. brought them to Canada in July. Now with the chances of a rebound in crude prices fading, bond investors are getting wary more companies will seek to set lenders against each other to escape default.
'Desperate' Companies
"When you're desperate to survive as a company you're going to do whatever you can right?" said Mark Wisniewski, who runs a credit hedge fund in Toronto for Sprott Asset Management LP. "There will be more of these situations because there's a lot of unsecured high-yield" debt issued by commodities firms.
Calfrac's $600 million of unsecured bonds traded at about 40 cents on the dollar in the wake of the firm's announcement last week that its largest shareholder, Matco Investments Ltd., will participate in a C$27.5 million ($19.8 million) share sale. That's only about a penny more than the low the bonds hit two days before, when the firm announced its banks had amended loans terms to help it avoid default, allowing it to sell $400 million more in bonds secured by its assets that would outrank the existing unsecured notes.
Distressed Exchange
The bond market's skepticism suggests worries about a distressed exchange, where holders of the old notes, who likely bought them at a discount, agree to cancel the debt in exchange for the chance to buy new securities, according to a Dec. 16 note from Raymond James Ltd. analyst Andrew Bradford.
"We negotiated the right to issue $400 million of second-lien debt to provide us with flexibility," Ashley Connolly, a spokeswoman for Calfrac, said in an e-mailed statement. "At this stage, there are no plans or requirement to utilize this option, but if an attractive option to reduce total leverage presents itself we are flexibly configured to respond."
Lightstream Resources did a similar debt exchange with its two largest unsecured bondholders earlier this year to get a cash infusion and lower its debt burden. Two other lenders have since sued the firm, saying leaving them out of the deal violated their rights and cost them millions as the unsecured securities they were holding were devalued. Lightstream was the only Canadian among 10 similar "distressed-debt exchanges" this year through November, according to data from Moody's Investors Service.
Oil Price
"That's happened a number of times this year, where companies have put in second lien and we have downgraded notes as a result," said Paresh Chari, the analyst at Moody's who rates Calfrac's existing bonds. "Your recovery for an unsecured noteholder is reduced."
Whether there will be more depends on the price of oil. The North American benchmark sank below $35 per barrel for the first time since 2009 last week and has stayed depressed as signs build the world won't work through its supply glut anytime soon. Data last week showed U.S. crude inventories climbed to the highest recorded for this time of year since 1930.
That has the average price of high-yield bonds from Canadian energy issuers at around 69 cents on the dollar, according to Bank of America Merrill Lynch data. The more discounted the bonds' prices, the less cost an investor would face buying them up and then offering to cancel them out for more senior notes.
Lightstream's 8.625 percent notes due 2020, the targets of the swap, were trading around 64 cents on the dollar before the announcement of the debt exchange in July. The $253.9 million that remain outstanding last traded Dec. 3 at 25 cents.
"You're in a difficult situation because you did an unsecured deal with a company that's linked to a commodity," said Sprott's Wisniewski. "Their capital structure wasn't strong enough to withstand $30 oil for a long time."
Before it's here, it's on the Bloomberg Terminal.
LEARN MORE