Funds With $3 Trillion Take Rain Check on Emerging Stocks
by
Ten out of 12 surveyed say they won't boost allocations

No rebound seen in new year as economic, political risks grow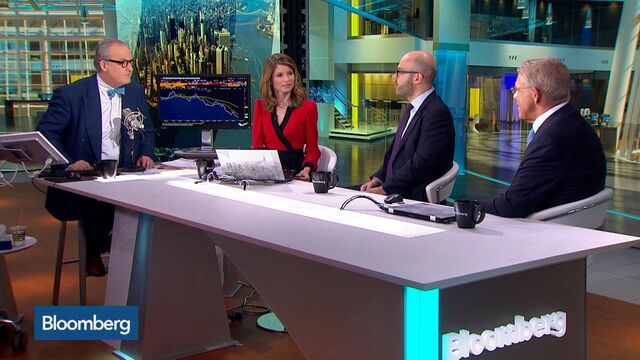 Rich pickings will be hard to find in emerging-market shares next year.
That's the conclusion of most money managers as they see off a third successive year of declines that drove stock prices to the lowest level in a decade relative to their developed peers and shaved more than $4 trillion off their value in the past six months alone.
A combination of dollar strength, domestic political turmoil and lower prices for metals and oil is driving investor caution. Ten out of 12 multi-asset managers overseeing a combined $3 trillion said in a Bloomberg survey they will either maintain or cut holdings in developing-nation equities in 2016.
"Emerging markets will continue to be a drag on global growth," said Michael Kelly, who oversees $12.9 billion as managing director and global head of asset allocation at PineBridge Investments LLC in New York. "While valuations have been beaten down, fundamentals will continue to deteriorate," said Kelly, who has an underweight stance.

Stocks in the developing world yielded investors almost nothing in the past six years as any benefits of unprecedented stimulus from the Federal Reserve were undone by growth hiccups, currency swings, corruption scandals and political wrangling. While the slowdown in China was the main theme of 2015, other country-specific issues -- from Brazil's presidential impeachment debate to Turkey's fight against terrorism and South Africa's fiscal woes -- may come to a head next year.
Kelly plans to avoid all emerging markets other than Mexico, India and parts of Asia. His pessimism is shared by other money managers who took part in the survey held Nov. 30-Dec. 17. Of the 10 respondents who said they won't add shares, nine plan to maintain allocations and one plans to cut. Two fund houses will buy more shares, including one moving up from an underweight position.
'Interesting Pockets'
There are select buying opportunities in developing nations, according to some respondents. One of them is India, where growth is overtaking China's and lower oil prices are reducing costs of business. At least four of the money managers polled cite the South Asian country as an investment destination in 2016.
"There are pockets that are interesting in emerging markets, including India and certain parts of Asia, where valuations and the currencies are less likely to see a downside," said David Coombs, who oversees the equivalent of $600 million in multi-asset strategies at Rathbone Investment Management in London.
Pessimism has gone too far, said Luca Paolini of Pictet Asset Management, who plans to buy emerging-market shares in the new year. He said valuations are becoming attractive as the growth momentum and commodity prices are stabilizing.
Valuation Shift
GAM Holding AG's Larry Hatheway foresees some reduction in his underweight positioning next year.
"Partly, that reflects the already significant shifts in valuations, flows and sentiment," Hatheway, the group head of multi-asset portfolios at GAM in London, said by e-mail.
For most other money managers, it's too early to make that call. Analysts cut their projections for earnings at emerging-market companies to the lowest level since 2009, according to data compiled by Bloomberg. That has prevented the price-earnings ratio from falling further, keeping valuations near their 10-year average.
The weakness in currencies, which sank to a record in December, and growing political risks also prevent global fund managers from turning more bullish. At least 10 countries devalued their currency or abandoned their dollar pegs this year.
Recession-hit Brazil is gearing up for a potential presidential impeachment, Turkey faces trade sanctions from Russia, and South Africa is headed toward at credit downgrades amid the worst fiscal bind in 15 years. Even in India, corruption scandals are dominating parliamentary debate, leaving little room for approving economic-policy changes. In China, 2016 economic growth at a 25-year low is projected to slow further.
"With growth momentum clearly deteriorating and capital outflows accelerating again, the EM picture looks more difficult," said Maarten-Jan Bakkum, a senior emerging-markets strategist at NN Investment Partners in The Hague with about $206 billion under management who cut his emerging stocks holding to underweight from neutral in December. "I can imagine that we move to a bigger EM underweight in the coming weeks and months."
Before it's here, it's on the Bloomberg Terminal.
LEARN MORE