Ex-RBS Bond Trader Pleads Guilty as Bond Probe Widens
by
Siegel agrees to cooperate with U.S. in pricing probe

Plea follows tossing of similar case by appeals court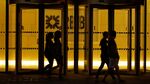 A former Royal Bank of Scotland Group Plc bond trader pleaded guilty to lying to customers in order to get them to pay higher prices as the U.S. continues probing tactics used in the market for complex debt -- undaunted by an appeals court's rejection of a key conviction.
Adam Siegel's plea is an indication that the government is continuing a crackdown on deceptive practices in the bond market even after an appeals court threw out the conviction of former Jefferies & Co. trader Jesse Litvak. Siegel agreed to cooperate with the government in the probe of bond-market trading.
Siegel, 37, of Riverside, Connecticut, served as co-head of mortgage and U.S. corporate trading at Edinburgh-based RBS's securities unit before he was placed on leave last year. He left the bank in June 2014 and joined Fortress Investment Group LLC.
Siegel and others lied about the seller's asking price to buyers or vice versa and kept the difference, sometimes telling buyers that bonds were being sold by a fake third-party seller, U.S. Attorney Deirdre Daly said in a statement. That allowed them to charge an extra commission. Litvak was charged with using the same tactics.
"Current regulations governing many fixed-income products allow broker-dealers to operate in secrecy," Daly said. "Broker-dealers do not have a license to lie to their customers."
Sieger was released on a $250,000 bond and is scheduled to be sentenced in March. The charges carry a maximum term of five years in prison. Jonathan D. Polkes, Siegel's lawyer, didn't return a phone message seeking comment on the plea.
Conviction Tossed
The appeals court this month tossed Litvak's March 2014 conviction for defrauding the U.S. government and making false statements. It said Litvak should have been able to present testimony from experts suggesting his tactics were common behavior on Wall Street, and ordered a retrial on charges that he cheated his customers by lying about the prices the firm paid for bonds.
Prosecutors are probably going to have to strengthen their cases against traders. Still, the U.S. has taken part of the ruling as an endorsement of its prosecution theory. A central issue in the Litvak case is whether information about the actual prices Jefferies paid for bonds are material, or important, to investors. The court found that a rational jury would have concluded that it is.
The government is now moving ahead with more than a dozen such civil and criminal cases it has been preparing against traders, people familiar with the probe have said.
Siegel is the second former Royal Bank of Scotland employee to plead guilty in the probe. Matthew Katke, who dealt in collateralized loan obligations backed by high-yield corporate debt, also admitted to fraud charges in March and agreed to cooperate with prosecutors. Katke's plea followed a line of suspensions at Wall Street banks.
Three former Nomura Holdings Inc. traders - Ross Shapiro, Michael Gramins and Tyler Peters - were arrested in September on similar charges, alleging they lied about how much they paid for debt in order to boost the spread on trades and earn an extra $7 million. They are scheduled to go on trial next year.
Move to RBS
Siegel and Katke both came to RBS in 2008 from Bear Stearns & Co. as part of an expansion of the mortgage business at bank's Connecticut-based securities arm. RBS announced plans last year to cut hundreds of jobs and shut down the mortgage business of that unit while placing more focus on its home U.K. markets.
Katke started working with Siegel while he was an analyst at Bear Stearns in 2003 and learned to trade collateralized loan obligations under the direction of Siegel and others before moving to RBS, according to a court filing. Siegel was Katke's superior before leaving the bank in May 2013.
Like Katke, Siegel's plea agreement allows him to withdraw his plea if Litvak ultimately is found not to have broken the law. According to court filings, the fraud by Siegel and others cost at least 35 victims millions of dollars, including firms that were affiliated with recipients of federal bailout funds. RBS's usual customers for structured products were investment advisers and hedge funds investing on behalf of entities such as pension funds, charitable endowments and insurance companies.
The case is U.S. v. Siegel, U.S. District Court, District of Connecticut (Hartford.)
Before it's here, it's on the Bloomberg Terminal.
LEARN MORE