China Tells U.S. to Stop Flexing Military Muscle in Asia
by
U.S. should respect China's core interests, Wang Tells Kerry

Conversation follows B-52 flight over China-claimed island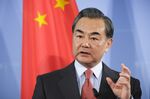 The U.S. should cease sending ships and planes to China's South China Sea islands, stop showing off its military might and respect China's core interests, Foreign Minister Wang Yi told Secretary of State John Kerry.
"The world is facing multifaceted challenges and needs multi-party cooperation to handle that," Wang said in a phone conversation Sunday with Kerry, according to a foreign ministry statement. "While the U.S. is seeking Chinese cooperation, it also should respect China's core interests and major concerns."
Wang's comments follow a report in the Wall Street Journal that a U.S. B-52 bomber mistakenly flew within two nautical miles of Cuarteron Reef in the disputed Spratly Island group in the South China Sea. China dumped tons of dredged sand onto the reef, turning it into an artificial island in the summer of 2014, according to the Asia Maritime Transparency Initiative, a website devoted to tracking maritime security issues in Asia.
The U.S. and China have been at loggerheads since October when the U.S. sailed a warship within 12 nautical miles of an island China built on a previously semi-submerged reef. China's claim to more than 80 percent of the waters is contested by Vietnam, the Philippines, Malaysia, Brunei and Taiwan.
China's foreign ministry in a statement urged the U.S. "to reflect upon and correct its mistake, take effective measures to prevent similar dangerous and provocative actions from happening and stop doing anything that hurts China's sovereignty and security interests."
Bad weather had contributed to the pilot of the B-52 flying off course and into the area claimed by China, the Wall Street Journal reported, citing Pentagon spokesman Bill Urban. The Pentagon is investigating why one of two B-52s on a routine patrol unintentionally flew into the airspace, he said.
China's Defense Ministry said Dec. 19 that both B-52s had flown into Chinese airspace on Dec. 10, in a "serious military provocation" that prompted troops on the island to go into high alert, and warn the planes to leave.
Wang also requested that the U.S. stop selling arms to Taiwan, an island China regards as a province. The U.S. last week said it would sell $1.83 billion in arms to Taiwan, its first such sale in four years.
The Wang-Kerry conversation followed the unanimous adoption Saturday by the United Nations Security Council of a resolution endorsing a political transition to end Syria's civil war. Wang said China hopes this will be a good opportunity to press ahead with a political solution to the Syrian issue.
The U.S. State Department hasn't yet published an account of the conversation.
Before it's here, it's on the Bloomberg Terminal.
LEARN MORE