markets
China's Record M&A Boom in Korea Furthers Xi's New Economy Dream
By and
Chinese investment in Korean companies more than doubles

Insurance, technology and cosmetics firms among targets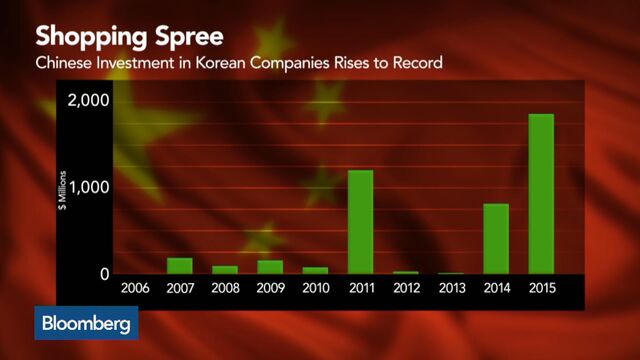 Companies in China are buying their South Korean counterparts at a record pace, tapping into one of the world's most innovative countries to accelerate President Xi Jinping's push for an economy led by technology and consumer services.
Chinese investments in Korean companies soared 119 percent this year to $1.9 billion, led by deals in the insurance, technology, health-care and cosmetics industries, according to data compiled by Bloomberg. The acquisition spree is likely to accelerate as China seeks to hasten a transformation away from smokestack industries that South Korea began more than 20 years ago, according to Samsung Asset Management Co. and Hyundai Securities Co.
South Korea's spending on research, patents and post-secondary education made the country No. 1 on the Bloomberg Innovation Index in 2015, versus China's global ranking of 22. Listed Chinese companies, whose cash reserves rose 12 percent from a year ago to 15.2 trillion yuan ($2.3 trillion), are taking advantage of Korean know-how to serve a domestic consumer market that now accounts for more than half of the country's economic expansion.
"The proximity and the high level of technology available in Korean companies make them more attractive to China," said Bernard Aw, a strategist at IG Asia Pte. in Singapore. "Chinese companies are snapping up acquisitions because they are sitting on a good cash hoard."
Anbang Insurance Group Co. agreed to buy Tongyang Life Insurance Co. for 1.13 trillion won ($934 million) in February in this year's biggest deal, while Champ Investments Ltd. acquired a stake in Jeju Semiconductor Corp. for $35 million. Jumei International Holding Ltd. made a $125 million cash investment in cosmetics maker It's Skin Co. and biological researcher Dream Cis Co. lured a $23 million injection.
Research-driven Korean companies are spearheading a "creative economy" envisioned by President Park Guen Hye, helping revive growth in Asia's fourth-largest economy. Medical and consumer companies based in the country dominate the top 10 performers on the MSCI Asia Pacific Index this year, with Hanmi Science Co. surging eightfold after clinching deals to sell lung cancer and diabetes treatments overseas. Celltrion Inc. more than doubled after developing an arthritis medicine.
Acquiring new technologies could help Chinese companies meet demand for a growing domestic market. Consumption accounted for more than 58 percent of the nation's expansion in the first nine months of the year, versus 43 percent for investment. Retail spending climbed 11.2 percent in November, its fastest pace this year.
Cutting Edge
"Entertainment, media platforms or games companies are among sectors they are targeting," said Lee Seung Jun, managing director for active investment at Samsung Asset Management in Seoul, the nation's largest fund manager. Chinese companies "need cutting-edge technology and high-end design for quality of growth."
The benchmark Kospi rose 0.6 percent at the close in Seoul.
Chinese investment in Korean companies remains comparatively small. China's acquisitions involving companies worldwide jumped 83 percent in 2015 to $516 billion as buyers snapped up premier assets ranging from the world's biggest luggage handler to Italian tire brand Pirelli & C. SpA. The Asia Pacific region represented 87 percent of the total, followed by Europe at 5.9 percent.
Investors betting that Chinese investment will lead to sustained share-price gains may be disappointed, said Im Sangkook, Seoul-based head of portfolio strategy team at Hyundai Securities.
Rallies Fizzle
Redrover Co. has fallen about 4 percent since Suning Universal Co. agreed to invest $10 million in the company on June 15. Chorokbaem Media Co. has given up most of an 89 percent rally sparked by DMG Entertainment and Media Co.'s investment of $21 million on Sept. 29.
"People tend to blindly pursue these names without considering the synergy effect or actual fundamental improvement," Im said.
Still, Chinese deals in Korea are likely to increase as the country's increasingly affluent middle class spend more on health care, entertainment and technology, according to Li Xiaoyang, a professor at Cheung Kong Graduate School of Business in Beijing.
"The booming middle class in China tends to care about brands and quality," Li said. "Korean firms tend to emphasize quality and efficiency, which are lacking among Chinese firms."
— With assistance by Sungwoo Park, and Shinhye Kang
Before it's here, it's on the Bloomberg Terminal.
LEARN MORE