A Force Awakens in Spain With Podemos's Shock Election Surge
By
Anti-austerity group wins 69 seats to disrupt Spanish elite

Iglesias led turnaround with performance in TV debates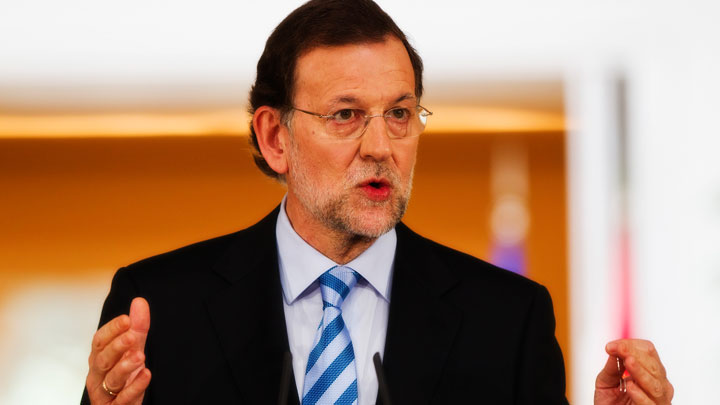 Pablo Iglesias, a 37-year-old political scientist from Madrid, spent Saturday watching the new Star Wars movie.
Unlike millions of others around the world who did the same thing last weekend, Iglesias is the leader of his own band of rebels, the anti-austerity party Podemos, and on Sunday he took a big step toward vanquishing his enemy.
Podemos won 69 of the 350 seats up for grabs in Spain's general election less than two years after the party was founded. As the governing People's Party lost a third of its seats to leave the shape of the next government shrouded in uncertainty, Iglesias declared the beginning a new time of hope.
"Today sees the start of a new political era," he told supports gathered in central Madrid. "The forces of change are making a historic advance."
It's been a rollercoaster ride for Podemos since it burst onto the scene in last year's European elections.
Podemos Strikes Back
The group surged into the lead in opinion polls in January. But after Iglesias's ally Alexis Tsipras led Greece to the brink of a euro exit in July, Podemos's support ebbed and commentators were writing off its chances of shaping the next government. At the start of December Podemos was trailing in fourth place with 15 percent support as pro-market Ciudadanos seized the mantle of the party of change.
Iglesias led the party's comeback with a string of performances in televised debates that reminded young Spaniards of why they'd propelled him into the front line of politics in the first place.

In a Dec. 7 contest his opponents used their closing statement to run through their policy plans. Iglesias went for the emotional jugular. He ran through a laundry list of the corruption scandals and budget cuts that have marked Prime Minister Mariano Rajoy's time in office, before ending on a note of optimism.
"Smile," he said. "Smile at those who work and those who get up without a job to go to. And don't forget to smile at your grandparents, who use their pensions to keep their families afloat. Please smile, because we can do it."
Video Mash-Ups
"That was outstanding," said Vincenzo Scarpetta, a policy analyst at Open Europe, a research institute in London. "If I was undecided, or angry with the system, it would have had an impact."
A Metroscopia poll conducted in the days following that debate saw Podemos leapfrog Ciudadanos into third. In the closing days of the campaign, Rajoy trained his attacks on Iglesias as polls showed Podemos might even overtake the Socialists.  
As the run-in to polling day coincided with the release of the new Star Wars film, Iglesias's followers played up the parallels between their rebel leader and the ones created by George Lucas. One video mash-up posted online subtitled images from the film to equate Rajoy's PP with the evil empire.
As well as science fiction, Iglesias enjoys watching political thrillers, and using them to make his political points. Before seeing Star Wars on Saturday, he went to see 'B Is for Barcenas,' a film about the corruption scandal that has enveloped Rajoy's party over the past two years and told reporters all about it -- a subtle way to score points when campaigning was officially banned.
Teasing the King
When he met Spain's King Felipe at the European Parliament in Brussels in April, he handed him a DVD box set of Game of Thrones, the medieval political saga in which monarchs are regularly toppled.
Born into a political family in Madrid, Iglesias was named after the 19th century founder of the Spanish Socialist Party and his parents were both activists, his uncle Santiago Iglesias said in a telephone interview earlier this year.
"Even as a kid he was really smart, and he's a real leader," Santiago said. "Money means absolutely nothing to him. He's doing this because he has his ideas. I promise you, he's a very humble guy."
In the center of Madrid on Sunday night, his supporters filled a plaza chanting victory slogans celebrating the losses suffered by Spain's two traditional parties.
"This is a new era in politics," said Ileada Bellon, a 51-year-old who was making 1,500 euros a month as a chef before the crisis, and now makes less than half that as a cleaner.
"Politicians need to understand that they work for us and not the other way around," she said. "That's all thanks to Podemos."
— With assistance by Ainhoa Goyeneche
Before it's here, it's on the Bloomberg Terminal.
LEARN MORE