'Star Wars' Sets Record With $529 Million Global Debut
by and
`Bigger than we thought it would be yesterday,' CEO Iger Says

Domestic opening reaches $248 million in final weekend tally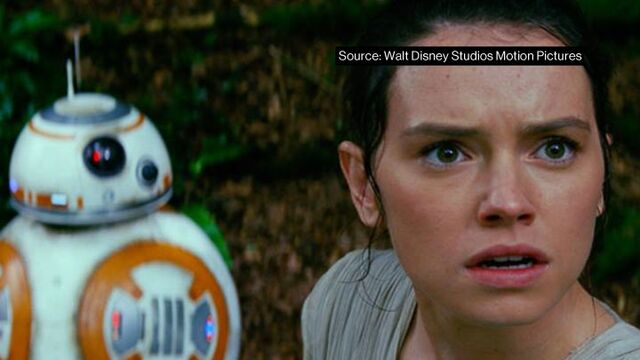 "Star Wars: The Force Awakens" rang up $529 million in worldwide box-office sales in its record weekend debut -- more than Walt Disney Co. anticipated, according to Chief Executive Officer Bob Iger.
That's before the movie reaches China, the second largest market in the world. With domestic sales coming in way higher than expected at $248 million, the first live-action "Star Wars" film in a decade already beats the previous global record by about $4 million -- "Jurassic World" reached $524.9 million earlier this year.

"It's bigger than big -- it's bigger than we thought it would be yesterday," Iger said Monday in an interview with Bloomberg TV's Stephanie Ruhle and David Westin. "And China has yet to open."
The new "Star Wars" film will nourish Disney's studio, theme-park and merchandise businesses for years. Since acquiring creator Lucasfilm for $4 billion in 2012, Burbank, California-based Disney has expanded the merchandise lines, produced new TV shows and mapped plans for themed lands at parks in California and Florida. The studio has as many as five more "Star Wars" films in the works.
While "Star Wars" has broken records, other parts of Disney's businesses have raised concerns among investors. Recent subscriber losses at ESPN, which remains the dominant sports outlet in America and is Disney's most profitable channel, have contributed to two meltdowns in media stocks since August, because they cast light on the magnitude of the number of consumers who are dropping traditional TV packages for cheaper online alternatives.
"I thought it was an overreaction," Iger said of the August selloff, which was triggered by his comments about subscriber losses at ESPN.
"It's clear that television is experiencing some disruptive forces," the CEO said, adding there's more disruption ahead with more and more ways to watch video than just TV. Still, "ESPN is something of great value in a disrupted market."
Disney fell 1.1 percent to $106.59 at the close in New York. The shares are up 13 percent in 2015, while the Standard & Poor's 500 Index has fallen 1.8 percent.
The Disney share decline Monday was likely due to people taking profits after the success of the film, Cowen & Co. analyst Doug Creutz said.
"People are asking themselves what they own the stock for now," he said.
The latest "Star Wars" shattered the domestic record. While Disney estimated Sunday that the movie collected $238 million in U.S. and Canadian ticket sales, Iger said the final number may reach $247 million. That would trounce the $208.8 million hauled in by Universal Studios' "Jurassic World' in June.
On Jan. 9, the movie will debut in China, the site of Disney's next big theme park: The Shanghai Disney Resort. That park will open next spring. The exact opening date will be announced after the first of the new year, Iger said Monday. The company previously said it would set the date by the end of this month.
"In China you know we've had a number of challenges," Iger said. "We're bringing a product to market, meaning what we're actually constructing, that's very unique. The structures that we build in a theme park are extremely complex. They're not just buildings but they're shows and they're rides. And there aren't that many examples of the Chinese construction industry building things that are as a complex as what we're building."
Disney has already announced plans for "Star Wars" sections of its theme parks in California and Florida, and will likely add "Star Wars" lands at other parks around the world, Iger said.
"It's a huge bet for Disney and a huge bet on China," Jonathan Golub, chief U.S. market strategist at RBC Capital Markets, said Monday on Bloomberg TV. "No one milks the value of these kinds of things the way Disney does."
The company will also introduce technology in the Chinese park that hasn't been used elsewhere.
"The consumer will be able to buy their tickets, use their mobile devices in far more advanced, compelling ways than any other place from a theme park perspective that we are today," Iger said.

Disney has set plans for four of the five "Star Wars" movies it anticipates, including one scheduled for release in December 2016 and another that will begin production in January. Credit Suisse analyst Omar Sheikh estimated that "The Force Awakens" and the four scheduled through 2019 could generate $7.8 billion in total revenue and $4.2 billion in profit for Disney.
Using his most optimistic estimates, Morgan Stanley analyst Benjamin Swinburne figures Disney could earn $1.35 billion from "The Force Awakens." That forecast assumes $2.25 billion in worldwide ticket sales and almost $1 billion more from home entertainment, TV and merchandise royalties. He put the film's production budget at $200 million, a sum that doesn't include many millions more for marketing and distribution.

Before it's here, it's on the Bloomberg Terminal.
LEARN MORE