Villa Maria Challenging Bordeaux With $85 Hawkes Bay Cabernet
by
Wine will come from Gimblett Gravels region of North Island

Pricing reflects Villa Maria's evolving export strategy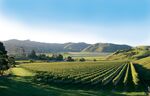 Villa Maria, a New Zealand winery with a track record stretching back more than half a century, is for the first time aiming to take on high-end Bordeaux with a Hawkes Bay cabernet sauvignon priced at more than $85 a bottle.
The inaugural 2013 vintage, comprising 97 percent cabernet sauvignon and 3 percent merlot, comes from the Gimblett Gravels region of Hawkes Bay on the east coast of New Zealand's North Island, the prime vineyard area for Bordeaux-style varietals. The 2014 wine will be 100 percent cabernet sauvignon.
The move is a sign of the growing ambition and self-confidence of New World wine producers outside California as they move beyond the export success achieved at the cheaper end of the wine spectrum and take aim at those parts of the market that until recently were the preserve of France, Italy or Napa Valley.
"It's an exciting evolution for us," said Nick Picone, chief winemaker at Villa Maria, in an interview in Brighton on the English south coast during a visit in September. "We've got the vineyards, we've got the history behind us to produce an ultra high-end wine."
The wine, to be called "Ngakirikiri," or "The Gravels," will have a limited production of 6,000 bottles. "At that price point we'd be keen to take it internationally," Picone said. "This is Villa Maria's first high-end wine in 50 years of history."
Villa Maria traces its roots back to 1961, when George Fistonich leased five acres of land from his father in Mangere, Auckland. His first harvest was the following year, exports started in 1988 and now the company employs more than 250 full-time staff and sells in about 60 countries worldwide.
Its wine, although predominantly sauvignon blanc, comes from 27 different grape varieties. Its top three export markets are the U.K., Australia and the U.S. While Penfolds in Australia has established a track record with its Grange wine for going head-to-head with some of France's top-end producers, Ngakirikiri is a departure not just for Villa Maria but for New Zealand.
In another New World twist challenging the French traditions, Ngakirikiri will come with screwcaps rather than the more conventional corks used for wine.
Villa Maria hasn't used corks since 2002, and has built up the experience with older wines to stick to that policy now. "We've effectively proved that wines don't need oxygen to age," Picone said.
Before it's here, it's on the Bloomberg Terminal.
LEARN MORE