Tapping the Outback Sun to Send Electricity to Australian Homes
by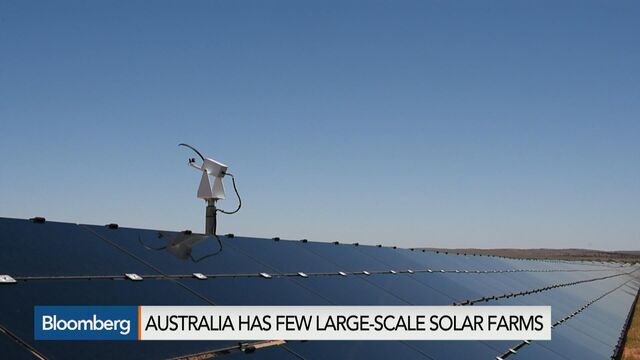 Broken Hill is known for its 130 years of history as a mining community. Now the Australian Outback city is home to one of the first large solar projects that's feeding electricity to the country's national grid.
The AGL Energy Ltd. and First Solar Inc. plant reached full capacity in October, sending 53 megawatts of clean energy to the national electricity market. It will produce enough power to meet the needs of 17,000 homes a year.

The Broken Hill plant has about 678,000 solar modules installed at a 25-degree angle, facing north. Those panels are wired together and connected to inverters that transform the direct electrical current that's produced into an alternating current. That power can then be fed to the grid. The solar farm is linked to an existing substation almost 3 kilometers away through a 22-kilovolt transmission line.
In the national market, high voltage electricity is converted to low voltage, with distribution lines carrying the power to homes, offices and factories that use electricity for lighting, heating and powering appliances.
It works as a "pool", or spot market, where power supply and demand is matched instantly. The national electricity market serves about 19 million residents and has 40,000 kilometers (25,000 miles) of transmission lines and cables, according to the Australian Energy Market Operator. 

The market stretches about 5,000 kilometers, from northern Queensland to South Australia and across the Bass Strait to Tasmania.
Solar power has a long way to go in meeting the electricity needs of Australian consumers, accounting for just 2 percent of the power that was generated last year, compared with almost 87 percent for fossil fuels.
Before it's here, it's on the Bloomberg Terminal.
LEARN MORE