Suspected Israel Attack Kills Hezbollah Militant Kuntar in Syria
by and
Incident sparks exchange of fire across Israel-Lebanon border

Kuntar was freed in 2008 for bodies of Israeli soldiers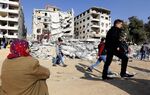 An Israeli airstrike in Syria killed a Hezbollah militant who served nearly three decades in an Israeli prison for a 1979 attack that left four people dead, including a father and his two daughters, the Lebanese group said.
The killing sparked an exchange of rocket and artillery fire across the Israel-Lebanon border later on Sunday.
Samir Kuntar, a Lebanese Druze, was killed in the Damascus suburb of Jaramana, Hezbollah said in a statement. A number of Syrian nationals also died in the attack, it said. The Israeli military had no comment.
The airstrike was the latest in a series of suspected Israeli attacks on Hezbollah gunmen and convoys in Syria, where the militant group is supporting President Bashar al-Assad in the civil war. Hezbollah's ability to retaliate at this point would be more limited because of its involvement in Syria's conflict.
Hours after Kuntar's death was confirmed, three rockets fired from Lebanon struck open areas in Israel's north, the Israeli military said, with no injuries reported. Israel said it responded with artillery fire into Lebanon, where the state-run National News Agency said nine shells hit locations in the country's south.
Kuntar was convicted by an Israeli court of killing a 4-year-old girl and her father after infiltrating from Lebanon by sea in a four-man cell. Kuntar, who was a teenager at the time of the attack, repeatedly denied murdering the girl and said she died in crossfire with Israeli forces. The child's mother, who took refuge in a crawlspace, accidentally smothered her other daughter trying to silence her cries, Israel has said.
'Historical Justice'
"In a sense, historical justice has been done," Smadar Haran, the wife and mother of the attack's victims said in an Army Radio interview. She said in a conference call with journalists that she had heard about a year ago that Kuntar had become active in Hezbollah. "I started to worry that he might attack other families and kill other children," she said.
Haran recounted how Kuntar killed her husband, then smashed her 4-year-old daughter's skull. Details of the murder made his 2008 release in a prisoner swap controversial. He was freed as part of an exchange for the bodies of two Israeli soldiers held by Hezbollah, whose capture sparked Israel's 2006 war in Lebanon.
"We have no idea who killed Samir Kuntar but whoever it was should be thanked by all of Israel," said Avigdor Liberman, head of the opposition Yisrael Beitenu party and a member of parliament's foreign affairs and defense committee. "This is a despicable murderer, a murderer who never expressed remorse and the minute he was released in the deal with Hezbollah continued to act against Israel."
(An earlier version of this story corrected the duration of Kuntar's imprisonment in Israel.)
Before it's here, it's on the Bloomberg Terminal.
LEARN MORE