business
Spanish Exit Poll Shows No Clear Winner as Rajoy's Vote Slumps
By
Socialists in second place with virtually all votes counted

Vote is `watershed moment,' uncertainty `total': Open Europe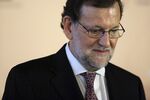 Spain was left with no clear governing majority after Prime Minister Mariano Rajoy's People's Party lost more than a third of its support in Sunday's election, as voters deserted the two main parties for new political groups.
The PP is on course to take the most seats, with 121 lawmakers in Spain's 350-strong parliament, the Interior Ministry said with 97 percent of votes counted. The PP won 28.7 percent of the vote, while the Socialists were second with 22 percent and 92 seats. Anti-austerity party Podemos won 69 seats and 20.6 percent. The liberal Ciudadanos party had 40 seats and 13.9 percent.
Spain joined a global backlash against establishment leaders as voters opted to challenge a two-party system that has seen the PP and the Socialists alternate in power for the past 33 years. In the aftermath of the financial crisis and a raft of corruption allegations against the establishment parties, Podemos and Ciudadanos emerged to challenge their hegemony, mirroring the disruption of traditional politics in many western democracies.
"This election marks a watershed moment for Spanish politics," Vincenzo Scarpetta, a London-based policy analyst at Open Europe, said in an e-mail. "The uncertainty is total. Rajoy will claim the right to form the new government, but at this stage it is far from obvious how he would muster a majority in parliament."
The result suggests the only party able to form a majority with Rajoy would be his historic rivals, the Socialists. The PP and Ciudadanos together are 15 seats short of the 176 seats needed for a majority. The Socialists, Podemos and another anti-austerity platform, Unidad Popular, fell 13 seats short, though they might attract extra support from nationalist groups.
Rerun Possible
The euro was at $1.0859 as of 9:20 a.m. on Monday in Sydney, little changed from last week's close in New York.
"Spanish assets will feel some pressure," said Jan Von Gerich, chief strategist at Nordea Bank AB in Helsinki. "Markets were clearly hoping for a PP-Ciudadanos coalition."
Spain's established parties have stumbled since the PP won a decisive victory in 2011 with 186 lawmakers in parliament and 45 percent of the vote compared with 110 seats for the Socialists.
Spain still faces the prospect of instability and a possible election rerun, according to Scarpetta at Open Europe. The coming coalition talks will be difficult "given the animosity between the parties," Scarpetta said. "At best, Spain will end up with a weak government. At worst, Spaniards might have to head to the polls again soon."
Coalition of 'Losers'
The outcome mirrors a wider phenomenon that's seen voters seek new choices as they turn their backs on established parties. Candidates like Donald Trump and Bernie Sanders are challenging mainstream party lines in the U.S., in Greece, anti-establishment Prime Minister Alexis Tsipras swept aside politicians from traditional parties, while Marine Le Pen's advances are unsettling France's mainstream blocs.
Throughout the Spanish campaign, Rajoy, 60, said the party winning the most votes should take the lead in forming a government. He warned against a grand coalition of "losers," invoking the Portuguese election in October, where a left-wing alliance ousted a conservative government that took the most votes.
In Spain, the traditional parties have been tainted by corruption allegations and economic mismanagement that have intermittently blighted the country since its return to democracy in 1978. They've seen the unemployment rate soar to more than 20 percent three times in 30 years and failed to fix the divisions between temporary and permanent jobs in the labor market.
— With assistance by Matthew Brockett, Esteban Duarte, Ainhoa Goyeneche, and Maria Tadeo
(
Updates with latest results starting in second paragraph.
)
Before it's here, it's on the Bloomberg Terminal.
LEARN MORE