Spanish Yield Rises to 5-Week High on Instability After Election
by and
Rajoy left with limited options to forge governing coalition

Spain-Italy yield spread widens to most since mid-November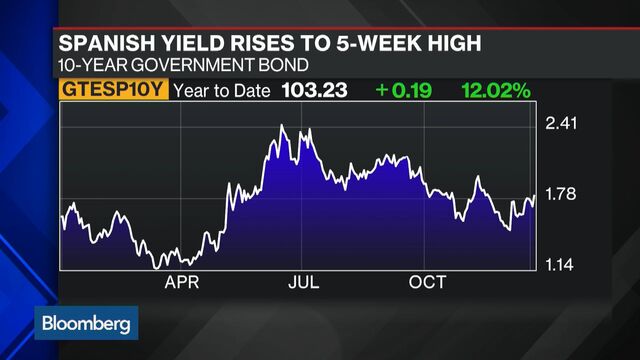 Spain's government bonds fell, pushing the 10-year yield to the highest in five weeks, after an indecisive election left Prime Minister Mariano Rajoy with limited options to forge a governing majority, threatening a period of instability.
The yield difference between Spanish and similar-maturity Italian bonds widened to the most since mid-November amid muted declines in the rest of the euro-area's peripheral debt markets. While Rajoy's People's Party placed first in Sunday's election, earning the right to try to form government, the results suggest the only party able to form a majority with him in the 350-member parliament would be the Socialists, the PP's historic rivals.

Even in Spain the losses were limited, with the slide only the largest in a week, as investors focus on European Central Bank bond purchases, lower debt issuance and an improving economic outlook. Monday is the last day of ECB buying until Jan. 4.
"The election outcome failed to provide us a clear picture of who will take power," said Anders Moller Lumholtz, chief analyst with Danske Bank A/S in Copenhagen. "It is likely to take time before we get clarity, and uncertainty is not a friend of the market. ECB QE buying could cushion some of the knee-jerk reaction, but as Monday is the last day before the QE goes on pause we probably shouldn't expect much effect from that side. Beyond the political uncertainty, we are positive on Spain."
QE Effect

Rajoy's party returned 123 lawmakers to 90 for the Socialists, as anti-austerity party Podemos placed third with 69 seats. The liberal Ciudadanos party, a possible ally for Rajoy, got 40 seats.
A majority of the 20 economists surveyed by Bloomberg said last week a relatively conservative government made up of the ruling PP, and newcomers Ciudadanos, who are frequently described as centrists, would be the best outcome for the economy.
While an inconclusive election result was widely anticipated, Spain's securities had been relatively stable in the run-up to the vote, with the ECB's bond-purchase plan insulating them from the type of selloff that characterized the region's debt crisis. Portuguese bonds saw only short-lived volatility last month, even as Socialist opposition lawmakers ousted former Prime Minister Pedro Passos Coelho.
Even so, Spanish bonds have still underperformed most of their peripheral peers this year, according to Bloomberg World Bond Indexes. Holders of the securities earned 1.9 percent this year through Dec. 18, while Italy's debt gained 5 percent, according to the indexes. The average across the euro zone was 2.3 percent.
2012 Comparison
Yields on Spain's 10-year bonds increased nine basis points, or 0.09 percentage point, to 1.79 percent as of 4:08 p.m. London time, paring a jump that pushed it to 1.88 percent, the highest since Nov. 11. The 2.15 percent bond maturing in October 2025 dropped 0.845, or 8.45 euros per 1,000-euro ($1,092) face amount, to 103.27.
While the 10-year yield is above the record low of 1.048 percent set in March, it's still less than a quarter of the 7.75 percent level reached in 2012. Spain's two-year note yield rose one basis point to 0.11 percent.
The reaction in other European bond markets was muted. Benchmark German 10-year bund yields increased one basis point to 0.56 percent, while similar-maturity Italian bond yields climbed three basis points to 1.60 percent and Portugal's rose two basis points to 2.51 percent.
Spain's 10-year bonds yielded 19 basis points more than their Italian peers, versus 12 on Friday. The spread reached 28 basis points in mid-September, the widest since 2013.
The election "highlights the shift in politics that Europe has undergone which longer term makes further convergence unlikely," said Charles Diebel, the London-based head of rates at Aviva Investors, which oversees about $377 billion. "We may get a fragile coalition that lasts a year or two. But longer term it makes little difference. The QE project is key and as long as economic plans are not derailed, then any sustained widening is probably a buying opportunity at some point in the first quarter."
Before it's here, it's on the Bloomberg Terminal.
LEARN MORE