Pollution Chokes Chinese Cities as Smog Spurs Indoor Warnings
Bloomberg News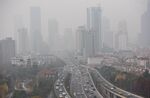 Heavy clouds of smog in China's northern and eastern regions are prompting warnings for children and the elderly to stay indoors in metropolitan areas including Beijing and Shanghai.
Concentrations of PM2.5 -- particles considered the most dangerous to health -- rose to as high as 176 micrograms per cubic meter at 11 a.m. in Shanghai, indicating "heavy" pollution, according to the Shanghai monitoring center.
Levels were at 222 near Beijing's Tiananmen Square, that city's municipal monitoring center said. The World Health Organization recommends daily exposure of no more than 25 micrograms.
This month's frequent and extensive smog has renewed calls for better pollution forecasting and prevention. Beijing has quickened the pace at which it reacts, issuing its second red alert, prompting school closures, traffic restrictions and limits on factory production.
The alert, the highest on a four-tier warning scale, was issued last week and runs through tomorrow.
Bad Weather
"Pollution issues exist in lots of Chinese cities and they become visible amid bad weather," said Yang Chaofei, vice president of China's Society for Environmental Sciences.
The burning of raw coal and industrial emissions are the major sources of pollution in northern parts of China, the Ministry of Environmental Protection said on Dec. 1.
Beijing has a long way to go to clean up its pollution, Yu Jianhua, chief engineer of the Beijing Municipal Environmental Protection Bureau, said on Dec. 17.
In addition to the health warning, Shanghai has also initiated a series of "winter pollution" measures effective as of 7 a.m. today. The actions call for a halt to construction and demolition work in central areas of the city, according to the municipal government's official microblog.
— With assistance by Jing Jin, and Feifei Shen
Before it's here, it's on the Bloomberg Terminal.
LEARN MORE