Packer Quits Crown's Board After Reports He's Considering Deal
by
Crown shares advance 4.1 percent at close in Sydney trading

Packer says Crown is `biggest professional priority'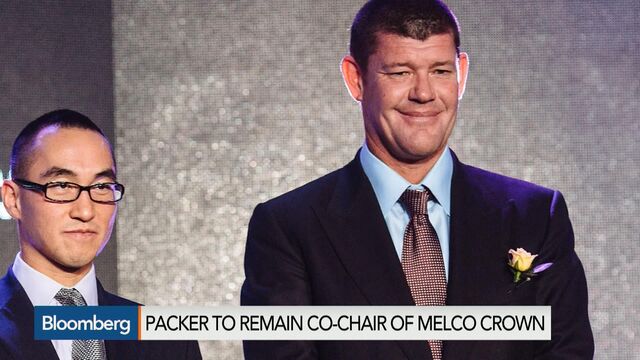 James Packer stepped down as a director of Crown Resorts Ltd., intensifying speculation he's closer to bidding for the company or some of its assets.
The billionaire's closely held investment vehicle, which controls Crown, has talked to private-equity firms and pension funds about a possible joint offer for some Crown assets, Bloomberg News reported last week. Packer is considering teaming up with a partner to take Crown private, the Australian newspaper reported Monday.
Standing aside at Crown, just months after he stepped down as chairman, gives Packer the freedom to mount a bid while distancing himself from the board's response. Following last week's reports, his investment company said it had held talks with third parties about its stake in Crown. 
"He's giving himself the option to do something," said Sam Fimis, a wealth adviser at Patersons Securities Ltd. in Melbourne. "Whether it's his intention or not, he's sending a clear message to the market."
Crown shares advanced as much as 6.4 percent in Sydney trading as Packer said in a statement the company remains his "biggest professional priority." The shares ended 4.1 percent higher at A$12.08, taking the company's market value to A$8.8 billion ($6.3 billion). Before news emerged of a potential deal involving Packer, the stock had fallen 33 percent from a February high.
Delivering for Shareholders
"We have so much more to deliver for shareholders," Packer said in the statement released by Crown to the stock exchange. Crown "represents the vast majority of my net wealth," he said.
Packer's Consolidated Press Holdings Pty owns about 53 percent of Crown. In turn, Crown owns 34 percent of Nasdaq-listed Melco Crown Entertainment Ltd., which runs casinos in the southern Chinese territory of Macau. 
Crown's earnings -- and Packer's fortune -- have been dented by a government crackdown in Macau on illicit money flows and a China-wide campaign against corruption that deterred VIP players.
Batman Ride
Consolidated Press said last week that a deal "of the nature speculated in the media" hadn't been proposed to Crown. A full buyout of Crown may be too costly, Deutsche Bank AG said in a report last week. Another option for Packer's investment company is to buy Crown's stake in Melco Crown for about A$4.1 billion to make Crown's valuation more transparent, Deutsche Bank said.
Melco Crown in October opened the Hollywood-themed $3.2 billion Studio City resort in Macau that features a giant Ferris wheel and virtual Batman ride. Packer will remain co-chairman of Melco Crown, as well as co-chairman of Alon, Crown's Las Vegas casino project.
In Monday's statement, Packer said he'll focus on the casino projects in Sydney, Melbourne and Las Vegas, where Crown either owns or is building major resorts, Crown said in its statement. Crown already runs casinos in Melbourne and Perth.
Before it's here, it's on the Bloomberg Terminal.
LEARN MORE