Dollar Rally Is Over for $60 Billion Unit of Norway's Top Bank
by
DNB says drop in commodities also getting `long in the tooth'

DNB says room for profit margins to increase in Europe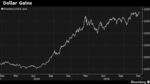 For the unit at Norway's biggest bank deciding how to invest client funds, 2016 will be a pivotal year as it predicts the rally in the U.S. dollar will finally come to an end.
DNB Asset Management, which oversees about $60 billion, is adjusting its portfolio to profit from its forecast for a less buoyant dollar and a recovery in emerging markets and commodities.
"The dollar rally we've had over a period, and not least the commodity price fall we've had, have become long in the tooth," Per-Erling Mikkelsen, head of tactical asset allocation at the asset manager of DNB ASA, said in an interview in Oslo . "There's a probability that we can suddenly end up with another regime a bit into 2016 than we've had the last years."
For now, that is still a bold prediction. The greenback posted its best week since the start of November as traders bet on more rate increases from the Federal Reserve after it raised rates for the first time since 2006. The dollar has strengthened by about 23 percent since mid-2014 against other major currencies, mainly because of sluggish growth in Europe where central banks are still mostly cutting rates.

"We are most positive to regions where pricing and margins are more reasonable than for example the U.S., namely Europe and Japan, which also have a bigger support on the liquidity side than the U.S.," he said. "In Europe, there's room for margins to increase while margins in the U.S. have compressed."
In a low interest rate environment, investors have been seeking returns from other asset classes than fixed income. That has increased valuations of especially defensive, high-quality dividend stocks, according to Mikkelsen.
"We could see a reversal to other more cyclical and value heavy sectors," he said.
The asset manager has "shaved a little bit off" its overweight in equities in technology stocks, consumer cyclicals, health care and finance, while moving up to market weight for its holdings in energy and materials.
DNB Asset Management, which holds 70 percent in fixed income, 20 percent in equity and 10 percent is real estate, is overall neutral on equities. A low-growth outlook with flat earnings, monetary policies beyond a maximum point of liquidity and "neutral" pricing are all reason to be cautious, Mikkelsen said.
"There is a special situation," he said. "Normally the Fed hikes rates when growth is accelerating and earnings outlooks are positive. This time we get a rate hike from the Fed in a period with a low growth outlook and rather flat earnings and the market is probably a little bit tense on how it's going to tackle that."
Before it's here, it's on the Bloomberg Terminal.
LEARN MORE