Buffett's NetJets Wins Agreement From Pilots Union on Contract
by
Deal includes wage increases, company-paid health care, bonus

More than 75% of pilots who voted supported the contract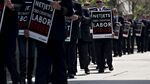 NetJets, the luxury aviation business at Warren Buffett's Berkshire Hathaway Inc., just won over its pilots union, ending a dispute that's stretched on for years.
Members of the NetJets Association of Shared Aircraft Pilots, which represents more than 2,700 pilots who fly for the business, voted to ratify a new contract with the company, the union said Sunday in a statement. Of the pilots who voted, more than 75 percent endorsed the agreement, the union said.
The deal included a double-digit increase in average wages, a signing bonus and a continuation of company-funded health care, among other benefits. Negotiations had been a sore spot over the past few years for Buffett, Berkshire's billionaire chairman and chief executive officer. The pilots had sought to pressure the company by taking out newspaper ads and protesting at Berkshire's annual meeting in Omaha, Nebraska.
The union filed a lawsuit against NetJets a year ago, saying that the company gained access to the pilots' private message board and snooped on their communications. NetJets has said in court filings that the message board was accessible to the public and that the lawsuit was an attempt to gain an advantage during the negotiations.
The business has given Buffett, 85, periodic headaches since he bought it for $725 million in 1998. NetJets is on its third CEO since founder Richard Santulli left in 2009 as the recession caused its customers to scale back on travel. The business, Buffett later said, "was destined for bankruptcy, absent Berkshire's deep pockets."
Founded in 1964, NetJets operates hundreds of aircraft. It was a pioneer in fractional aircraft ownership, in which companies or wealthy individuals pay for a share of a plane in exchange for flight hours.
Before it's here, it's on the Bloomberg Terminal.
LEARN MORE