U.S. Stocks Rebound as Metals Rise; Brent Falls, Treasuries Gain
by and
S&P 500 climbs from two-month low as miners advance on China

Brent crude extends decline to lowest level since July 2004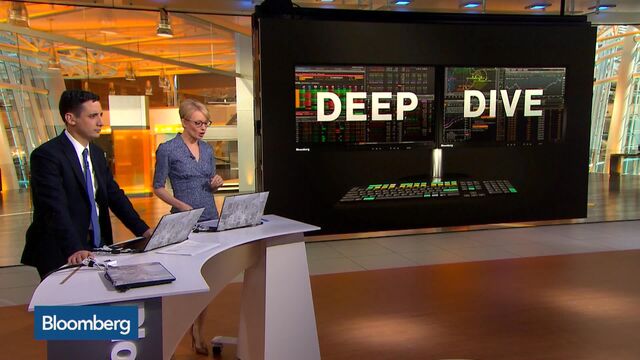 U.S. stocks recovered from a two-day slump, as China's signal that it may add to stimulus boosted metals prices from copper to gold. Brent crude slipped to an 11-year low on signs the global glut will persist, while Treasuries advanced.
The Standard & Poor's 500 Index rebounded from a 3.3 percent rout since the Federal Reserve raised rates, with most of the advance coming in the final half hour of trading. Ten-year Treasury notes erased losses for December, while the dollar slipped. Brent futures in London fell to the weakest intraday level since July 2004, with drilling in the U.S. increasing. Emerging-market equities headed for the fourth gain in five days.
The rout in crude prices has pushed oil to the lowest levels since before financial crisis, threatening to keep inflation from rising to levels targeted by central banks in Europe and America. Equities have tumbled since the Fed's tightening on concern that U.S. growth could slow without zero-percent interest rates. China's government said monetary policy must be more "flexible" and fiscal policy more "forceful" to combat slowing growth in the world's second-largest economy.
"We've seen a lot of stimulus over the last year and the market is hoping to see that pay off, provide a spark to the economy," said Joseph Betlej, who helps oversee $33 billion as vice president of Advantus Capital Management. "We're at a point in the business cycle where macro events tend to get magnified, either positively or negatively. Look for a market with continued volatility."

Stocks
The S&P 500 rose 0.8 percent at 4 p.m. in New York. The index has fallen 2.9 percent in December, bucking the historical seasonal trend of gains, and is on track for its biggest annual drop since the 2008 financial crisis. Telephone and technology companies led gains in the index today, rising more than 1 percent. Volume on U.S. exchanges was about 7 percent lower than the three-month average, according to data compiled by Bloomberg.
Energy companies dragged the Stoxx Europe 600 Index lower in its final hour of trading. The gauge fell 1.1 percent as oil and gas producers plunged 2.2 percent.
Spain's equity benchmark IBEX 35 Index fell 3.6 percent, for the worst performance among western-European markets after elections weakened the party of Prime Minister Mariano Rajoy. Banco Santander SA and Banco Bilbao Vizcaya Argentaria SA weighed heaviest, falling more than 3.8 percent.
Japan's Topix index slid 0.4 percent, with Toshiba Corp. leading declines after reports it would post a record 500 billion yen ($4.1 billion) loss in the current fiscal year. After the stock market shut, the company forecast a record full-year loss of 550 billion yen.
Commodities
Brent crude futures were 1.8 percent lower at $36.20 a barrel, after a 2.8 percent decline last week. It fell as low as $36.04 on Monday, the lowest since July 2004. West Texas Intermediate crude in New York was little changed at $34.74 a barrel.
Gas, which has been battered by widespread warmth in the eastern half of the country, headed for the biggest one-day gain in seven weeks as forecasts showed mild weather fading in the U.S. Midwest. Gas futures for January delivery jumped 9.1 percent, to $1.927 per million British thermal units on the New York Mercantile Exchange.
The Bloomberg Commodity Index climbed a second day amid gains in metals prices. Aluminum for delivery in three months rose 0.5 percent to $1,513 a metric ton and copper gained 1.1 percent to $4,738 on the London Metal Exchange on reported plans for Chinese copper smelters to cut output.
Gold for immediate delivery climbed 1.1 percent to $1,077.85 an ounce, according to Bloomberg generic pricing. While the metal rose 1.4 percent on Friday, it retreated 0.8 percent last week.
Bonds
Treasuries are proving their worth as the haven of choice even as the Fed raises interest rates. U.S. government securities erased losses from earlier in December and are eking out a gain for the month. The benchmark U.S. 10-year note yield lost one basis point to 2.19 percent on Monday.
Government bonds in Spain tumbled, with yields on 10-year securities increasing as much as 19 basis points to 1.88 percent, the highest more than a month. While that's above the record low of 1.048 percent set in March, it's still less than a quarter of the 7.75 percent level reached in 2012. 
Bonds of other nations from Europe's periphery also declined. The yield on Italian 10-year bonds added two basis points to 1.58 percent, and that on similar-maturity Portuguese debt climbed two basis points to 2.49 percent. German 10-year yields were little changed at 0.55 percent.
Emerging Markets
The MSCI Emerging Markets Index rose 0.2 percent as investors turned their attention to countries like China and India where more easing is expected. Stocks are rebounding from a six-year low reached on Dec. 14 as the Fed's assurance to make only gradual interest-rate increases boosted risk appetite. The benchmark gauge is still heading for a loss of 17 percent this year.
The Shanghai Composite index jumped 1.8 percent amid speculation that the government will take steps to improve efficiency at state-owned enterprises.
Azerbaijan's manat plunged 32 percent against the dollar after the nation abandoned the currency peg to protect its foreign-exchange reserves in the wake of continued weakness in oil prices.
Currencies
The Bloomberg Dollar Spot Index, which tracks the currency against 10 major peers, slipped 0.1 percent after declining 0.4 percent on Friday. The dollar is on pace for the first monthly decline since August as investors bet the Fed will wait until at least April to raise interest rates again after last week's liftoff from near zero.
The probability that the Fed raises its benchmark rate by the April meeting is about 52 percent, according to data compiled by Bloomberg based on futures.
Before it's here, it's on the Bloomberg Terminal.
LEARN MORE