Air France Jet Makes Emergency Landing in Kenya on Bomb Fear
By and
Passenger finds `explosive device' in restroom on Paris Flight

Paris TV channel says suspicious package was fake device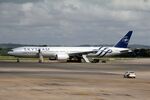 An Air France flight from the resort island of Mauritius to Paris made an emergency landing in Mombasa after a passenger discovered what appeared to be a bomb, Kenyan security officials said.
Several passengers were hurt scrambling off the plane when it landed on Sunday, police spokesman Charles Owino said by phone in Nairobi. "The plane made the call to Kenyan airspace 20 minutes after taking off from Mauritius at around 9 p.m. It safely landed at Moi International airport at 00:37." The flight had 459 passengers and 14 crew.
A passenger on Flight 463 found what appeared to be explosive device with a timer in the plane's toilet. Bomb experts removed the suspicious item and took it for analysis, Interior Ministry spokesman Mwenda Njoka said from Nairobi. There was no information whether it was "a real device or a decoy."
Paris television station I-Tele reported the device was a fake, without saying how it obtained the information.
Air France has been the target of anonymous threats at least three times since a terrorist attack in the French capital on Nov. 13 killed 130 people. Five days after the assault, separate flights from Washington and Los Angeles to Paris made unscheduled landings, and on Dec. 8 a plane from San Francisco was diverted after telephoned threats.
France's Foreign Affairs Ministry said in a statement that it has asked the embassy in Kenya to help passengers from Flight 463 find accommodation and get to Paris.
Security concerns have increased in Kenya after numerous attacks by the al-Shabaab Islamist militants linked to al-Qaeda.
In late October, a Metrojet Airbus A321 headed to Moscow crashed in the Sinai Peninsula, killing all 224 people aboard. Russian authorities said a bomb brought down the aircraft filled with tourists, while Egypt's aviation ministry said it found no evidence of a terrorist act.
Owino said doctors, security services, ambulances and the fire brigade were called to the runway for the landing.
"Everything is under control now, we are awaiting a statement from the minister and the bomb analysis to come back," he said.