'Star Wars' Soars With Record-Breaking $238 Million Debut
Anousha Sakoui and Christopher Palmeri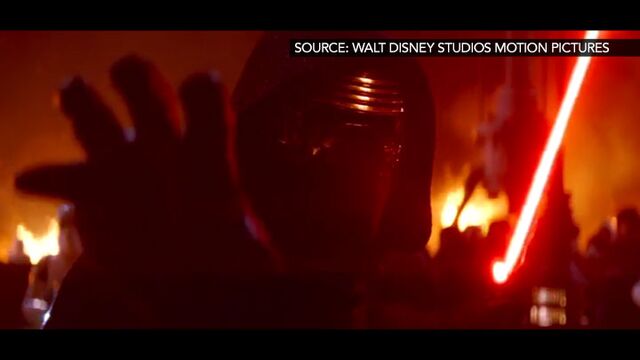 "Chewie, we're home."
Han Solo's line in the new "Star Wars" film could also apply to Walt Disney Co. and the team of filmmakers, marketers and distribution executives who delivered a record-breaking weekend debut, setting the stage for years of movies, merchandise and attractions tied to the most successful science-fiction franchise in history.
"Star Wars: The Force Awakens" collected $238 million in U.S. and Canadian ticket sales, topping the $208.8 million hauled in by Universal Studios' "Jurassic World" in June, market researcher Rentrak Corp. said in a statement Sunday.
The commercial and critical success of the film revives one of Hollywood's most-beloved series. Since acquiring creator Lucasfilm for $4 billion in 2012, Burbank, California-based Disney has expanded the "Star Wars" merchandise lines, produced new TV shows and mapped plans for themed lands at parks in California and Florida. The studio has as many as five more "Star Wars" films in the works.
"Disney has rebooted the 'Star Wars' franchise," said Robert Marich, author of "Marketing to Moviegoers." "The reviews from critics and fans were excellent. They'll earn a lot of money. You couldn't ask for anything else."
Overseas Hit
"The Force Awakens," which started showing in international markets on Wednesday, brought in an added $279 million overseas, lifting the worldwide total to $517 million as of Sunday, Disney said. The film opens on Jan. 9 in China, now the second-largest global market after the U.S.
The company faced high expectations to get it right, both from investors and from millions of loyal fans of the George Lucas creation. BoxOffice.com forecast $229 million for the opening weekend. Some 63 percent of viewers were over the age of 25, Disney said, and 58 percent were male.
The "Star Wars" saga is a spiritual one, said Nate Clukey, a 45-year-old designer from Detroit who slept in front of the TCL Chinese Theatre in Los Angeles for 12 days before the film opened.
"It's all about family and friendships," Clukey said.
While initial viewers skewed older and male, more families will go see the film over the Christmas and New Year's holidays, Dave Hollis, Disney's executive vice president for theatrical distribution, said in a telephone interview.
"We have the best calendar you could hope for," he said.
"The Forces Awakens," the seventh film in the series, is set 30 years after the defeat of the Galactic Empire in 1983's "Star Wars: Return of the Jedi." With a new threat rising, Finn, a renegade Stormtrooper played by John Boyega, joins Rey, a staff-wielding scavenger played by Daisy Ridley, on a quest to find the lost Jedi knight Luke Skywalker, portrayed once again by Mark Hamill.
Original Stars
The return of stars such as Harrison Ford and Carrie Fisher from the original 1977 "Star Wars" film along with younger actors in prominent roles has been cited by critics as a reason for the new film's appeal across a range of moviegoers.
Disney hasn't disclosed the production budget for "The Force Awakens," which was directed by J.J. Abrams. Analysts estimate it cost about $200 million, not including the many millions spent to market the film.
Reviews have been strong, with 95 percent positive notices, according to aggregator Rottentomatoes.com. Almost half of its business came from 3D and other higher-priced formats, Disney said.
The success of the film may provide a boost for a domestic movie industry in which attendance has been little changed for a decade, said Peter Sealey, a former head of marketing at Columbia Pictures.
"A lot of people will see this movie that haven't seen a movie in 10 years," he said. "They'll say that was pretty good, let's do that again."
Other Choices
Two other films that made their debut this weekend appealed to those seeking an alternative to "The Force Awakens."
21st Century Fox Inc.'s "Alvin and the Chipmunks: The Road Chip" provided an option for younger theatergoers who may not able to attend the PG-13 rated "The Force Awakens." The film placed second with $14.4 million in ticket sales, according to Rentrak.
"Sisters," a comedy from Universal Pictures, stars Amy Poehler and Tina Fey as siblings on a trip to revisit their parents' home, which is for sale. It garnered $13.4 million at the box office.
Weekend sales for the top 10 films more than doubled to a record $291.6 million from a year earlier, Rentrak said. Sales for the year to date have increased 5.8 percent to $10.4 billion.
The amounts are based on actual ticket sales for Dec. 18 and Dec. 19, and estimates for Sunday.
                   Rev.    Pct.             Avg./    Total
Movie             (mln)    Chg. Theaters  Theater    (mln)  Wks
===============================================================
1 Star Wars       238.0     --    4,134   57,571    238.0    1
2 Alvin            14.4     --    3,653    3,942     14.4    1
3 Sisters          13.4     --    2,962    4,530     13.4    1
4 Mockingjay        5.7    -50    2,653    2,130    254.4    5
5 Creed             5.1    -50    2,433    2,090     87.9    4
6 Good Dinosaur     4.2    -59    2,755    1,536     96.5    4
7 Krampus           3.8    -55    2,371    1,595     34.8    3
8 In The Heart      3.5    -69    3,103    1,117     18.6    2
9 Dilwale           1.9     --      268    7,090      1.9    1
10 Bajirao Mastani  1.7     --      304    5,592      1.7    1



Top 10 Films Grosses



   This Week     Year Ago      Pct.
     (mln)         (mln)       Chg.
===================================
    $291.6        $122.1     138.9



Year-to-date Revenue



     2015          2014
      YTD           YTD        Pct.
     (mln)         (mln)       Chg.
===================================
   $10,390        $9,820       5.8

Source: Rentrak Corp.
Before it's here, it's on the Bloomberg Terminal.
LEARN MORE