Lew Says U.S. Is Making Progress Slowing Islamic State Funding
by
Group shut off from electronic transfers, formal banking

Oilfield bombing said to be cutting into future oil sales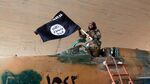 Treasury Secretary Jacob Lew said the U.S. is making progress in limiting the ways Islamic State uses to finance itself, by cutting oil sales and shutting off the terrorist group from the formal banking system.
Bombing raids have destroyed 400 tanker trucks in the last month and a half and are now going after infrastructure around oil refineries controlled by Islamic State, Lew said in an interview on "CNN's Fareed Zakaria GPS" that will air on Sunday.
The U.S. and its allies are also "going at cross-border sales, formal and informal, and stopping the flow of money into ISIL-controlled territory," Lew said, according to a transcript provided by CNN.
Finance ministers of the countries on the United Nations Security Council passed a U.S.-Russian resolution on Dec. 17 aimed at dismantling the financial network of Islamic State and choking off the extremist group's access to money from oil and looting. A UN report estimated that Islamic State was earning as much as $1.7 million a day from crude oil sales.
That resolution is "a very, very powerful message to anyone thinking of getting involved in this business or any financial institution thinking of supporting it -- you know, that is going to be something we don't want to do," U.K. Chancellor of Exchequer George Osborne said in the CNN interview.
While the U.S. and its allies have already shut off Islamic State from the formal banking sector, the world needs to work together to make sure all sanctions and restrictions are followed, Lew said. 
"What we need to do now is be effective -- and only the world community together can do that," he said. "It's all about execution. We've now got to work individually and collectively to make sure that the promises made in the resolution are kept."
Before it's here, it's on the Bloomberg Terminal.
LEARN MORE